EACING a total estimated accumu late d lated deficit at the
26th January 1951
Page 29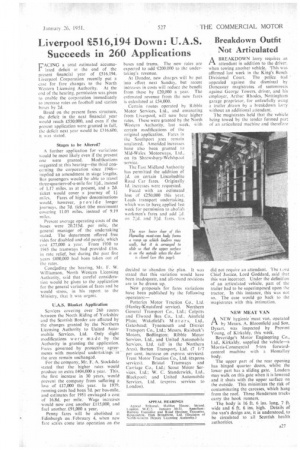 Page 29, 26th January 1951 —
EACING a total estimated accumu late d lated deficit at the
Close
end of the present financial year of C516.194, Liverpool Corporation recently put a ease for fare changes to the North Western licensing Authority: At the end of the hearing, permission was given to enable the corporation immediately to increase rates on football and station buses by 241.
Based on the present fares structure, the deficit in the next financial year would reach £550,000, and even if the present application were granted in full, the deficit next year would be £316,600. it was stated.
Stages to be Altered?
A further application for -variations would be most likely even if the present one were granted. Modifications suggested at this hearing—the third concerning the corporation since 1946— implied an amendment in stage lengths. Bus passengers would be able to travel three-quarters-of-a-mile for 11d., instead of 1.17 miles. as at present, and a 2d. ticket would cover a journey of 11 miles. Fares of higher denominations would, however, pr ov ide longer journeys, the 7d. ticket (the maximum) covering 11.03 miles. instead of 9.19
Present average operating costs of the buses were 20.215d. per mile, the general manger of the tindertaking stated. The department offered free. rides for disabled and old people, which cost £77,000 a year. From 1930 to 1945 the tramways had provided Elm. in i-ate relief, but during the past five years £400,000 had been taken out of the rates.
Concluding the hearing, Mr. F. W. Williamson, North Western Licensing Authority, said that careful consideration would be given to the application for the general variation of fares and he would stress, in his report . to the Ministry, that it was urgent.
U.AS. Blanket Application
Services covering over 260 routes between the North _ Riding of •Yorkshire -and the Scottish. Border are affected by the changes granted by the Northern Licensing Authority to United Automobile Services, Ltd, Only slight modifications we re made by the Authority in granting the application. Fares governed by protective agreements with municipal undertakings in the area remain unchanged.
For the company, Mr. F. A. Stockdale stated that the higher rates would produce an extra £404,000 a year. This. the first increase in 30 years, • would • prevent the company from suffering a loss of £17,000 this year. In 1939, running costs had been 7d. per bus-Mile,. and estimates for 1951 envisaged -a cost Of 16.8d. -per mile: Wage increases • would now cost another £115,000, and fuel another. £91,000 a year.
Penny fares will be abolished at -Edinburghon February 4, when new fare scales come into operation on The
buses and trams. The new rates are expected to add '£200.000 to the undertaking's revenue.
Al Dundee. new charges will he put into effect next Sunday, but recent increases in costs will reduce the benefit from these by 120,000 a year. The estimated revenue from the new fares is calculated at £54,000.
Certain routes operated by Ribble Motor Services. Ltd., and emanating from Liverpool, will now bear higher rates. These were granted by the North Western Authority, last week, With certain modifications of the original application. Fares in the Southport area remain unaltered. Amended increases have also been granted to Mid-Wales Motorways, Ltd.. on its Shrewsbury-Welshpool -service.
The Fast Midland Authority has permitted the addition of d. on certain Lincolnshire Road Car fares. Originally ld. increases were requested. Faced with an estimated loss of £250,000 this year. Leeds transport undertaking. which was to have_applied last week for permission to abolisli workmen's fares and add !:s1 on 2-1d. and 3N. fares. li:!s decided to abandon the plan. It was stated that this variation would have been inadequate, and all-round revisions are to be drawn up.
New proposals for fares variations have been published by the following operators:—
Potteries Motor Traction Co., Ltd. (Hanley-Knutsford service). Northern General Transport Co., Ltd.; Colpitts and Elwood Bus Co.. Ltd.. Afinfield Plain; Wakefield's M o t or s, Ltd.. Gateshead; Tynemouth and District Transport Co., Ltd.; Messrs. Raisbeek's Motois, Bedlington; Ribble Motor Services, Ltd., and United Automobile Services, Ltd. (all' in the Northern Area). Barton Transport, Ltd. (7 1/7 per cent, increase on express services). Trent Motor Traction Co., Ltd. (express services). Bristol Tramways and Carriage Co.-, Ltd.; Scout Motor Services, Ltd.; W. C. Standerwiek, Ltd., Blackpool: and United Automobile Services, Ltd. (express services to London).