A BREAKDOWN lorry requires an attendant in addition to the driver.
26th January 1951
Page 29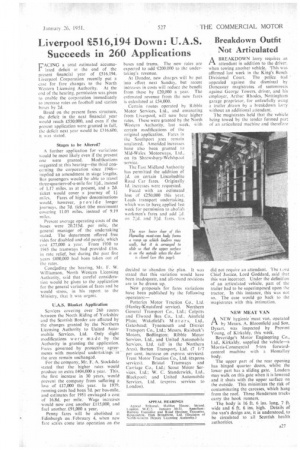 Page 29, 26th January 1951 —
A BREAKDOWN lorry requires an attendant in addition to the driver.
Close
when towing another vehicle. 'This was affirmed last week in the King's Bench Divisional Court. The police had appealed against the dismissal by Doncaster magistrates of summonses against George Towers, driver, and his employer, Arthur Rhodes, Nottingham garage proprietor, for unlawfully using a trailer .drawn by a breakdown lorry without an additional attendant.
The magistrates held that the vehicle being towed by the tender formed part of an articulated machine and therefKe did not require an attendant. The Lord Chief Justice, Lord Goddard, said that this was incorrect. Under the definition of an articulated vehicle, part of the trailer had to be superimposed upon the tractor. In this instance, this was not so. The case would go hack to the magistrates with this intimation.
NEW MEAT VAN
1-1 A NEW hygienie.meat van, operated by Messrs. A. Bloomfield and Son, Dysart, was inspected by Provost Young, of Kirkaldy, this week. Beveridge's Motor Engineering Co.,
1.td., Kirkaldy. supplied the vehicle—a Morris-Commercial 5-ton forwardcontrol machine with a Horrialloy body.
The upper part of the rear opening has -hinged quarter doors, whilst the lower part has a sliding gate. Loaders may walk on this gate when it is lowered and it shuts with the upper surface on the outside. This minimizes the risk of contaminating the carcases, which hang from the roof. Three Henderson tracks carry the hook runners.
The body is 16 ft. 6 ins. long, 7 ft.
wide and 6 ft. 6 ins. high. Details of the van's design are, it is understood, to be circulated to all Scottish health authorities.