Scottish Hauliers Keep Businesses.
26th January 1951
Page 28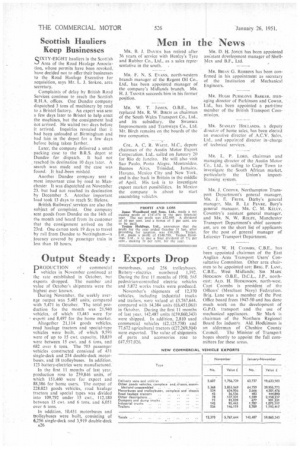 Page 28, 26th January 1951 —
Scottish Hauliers Keep Businesses.
Close
SIXTY-El6HT hauliers in the Scottish Area of the Road Haulage Association, whose permits have been revoked, have decided not to offer their businesses to the Road Haulage Executive for acquisition, says Mr. L. J. Stokoe, area
secretary. • Complaints of delay by British Road Services continue to reach the Scottish R.H.A. offsets. One Dundee company dispatched 3 tons of machinery by road to a Bristol factory. An expert was sent a few days later to Bristol to help erect the machines, but the consignment had not arrived. He waited twe days before it arrived. Inquiries revealed that it had beeo unloaded at Birmingham and had lain in the depot for a few days before being taken farther..
Later, the company delivered a small packing case to the B.R.S. depot at Dundee for dispatch. It had not reached its destination 10 days later. A search was made and the case was found. it had .been mislaid.
Another . Dundee company sent a most important case by road to Manchester It was dispatched on November 23. but had not reached its destination by December 5. Another important load took 13 days to reach St: Helens.
British.Railways'.services are also the subject of complaint. One company sent goods from Dundee on the 14th of the month and heard from its customer that the consignment arrived on the 23rd. One carton took 19 days to travel by rail from Dundee to Nottingham-a journey covered by passenger train in less than 10 hours.