Men in the News
26th January 1951
Page 28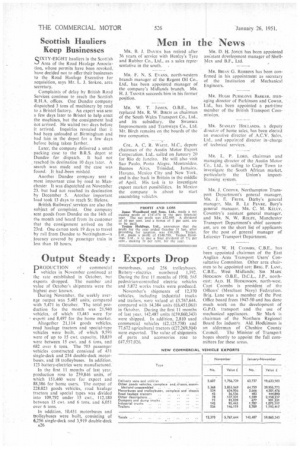 Page 28, 26th January 1951 —
Men in the News
Close
Keywords :
Ma. B. J. Davies has retired after 36 years. of service with Henley's Tyre and Rubber Co., Ltd., as a sales repre
sentative in the south. ,
MR. F. N. S. EVANS, north-western branch manager of the Regent Oil Co., Ltd:, has been appointed manager of the company's Midlands branch. MR. H. J. TANNER succeeds him in his former position.
MR. W. T. JAMES, 0.B.E., has replaced MR. R. W. Maas as chairman of the South Wales Transport OS., Ltd., and its subsidiary, the Swansea Improvements and Tramways Co.. Ltd. Mr. Birch remains on the hoards of the two companies.
COL. A. C. R. Warre. M.C., deputy chairman of the Austin Motor Export Corporation. Ltd., sailed on January 20 for Rio de Janeiro. He will also visit Sao Paulo, Porto Alegre. Montevideo, Buenos Aire.s, Trinidad, Jamaica, Havana. Mexico City and New York, and is due back in Britain in the middle of April. His task is to investigate export market possibilities. In Mexico the company is about to start assembling vehicles. MR. D. H. JOYCE has been appointed ass:stant development manager of .ShellMex and B.F., Ltd.
MR. BRIAN G. ROBBINS has been confirmed in his appointment as secretary of the Institution of Mechanical Engineers.
MR. HUGH PURSLOVE BARKER. managing director of Parkinson and Cowan, Ltd., has been appointed a part-time member of the British Transport Commission.
MR. STANLEY HOLLANDS, a deputy director of home sales, has been elected an executive director of .A.C.V. Sales, Ltd.. and Hopp:reed director in-charge of technical services.
MR. L. P. LORD, chairman and managing director of the Austin Motor co.. Ltd.. is sailing to Cape Town to investigate the South African market, particularly, Union's importlicensing sysem.
MR. J. Cooputt. Northampton Transport Department's general manager, MR. J. E. FRITH, Derby's general manager, MR. R. LE FEVRE, Bury's general manager, MR. C. M. KELLY, Coventry's assistant general manager, and MR. N. W. ROLFE, Manchester Transport Department's chief accountant, are on the short list of applicants for the post of general manager of Leicester Transport Department.
CAPT. W. H. COOMBS, C.B.E.. has been appointed chairman of the East Anglian • Area Transport Users' Consultative Committee. Other area chairmen to be appointed are: BRIG. F. Lose, C.B.E" West Midlands; SIR MARK HODGSON 0.B.E., D.C.L., J.F., northeast; At.o. H. HODKINSON, north-west. Capt Coombs is president of the Officers' (Merchant Navy) federation. Brig. Lane was a member of the Post Office board from 1947-50 and has done much work on the development of G.P.O. transport and the use of
mechanical appliances. Sir Mark is chairman of the Northern Regional Board fiat industry. Aid. Hodkinson is an alderman of Cheshire County Council. The Minister of Transport hopes shortly to appoint the full coinminces for these areas.
Tags
People
:
R. W. Maas
,
BRIAN G. ROBBINS
,
N. W. ROLFE
,
J. E. FRITH
,
MARK HODGSON
,
N. S. EVANS
,
W. T. JAMES
,
R. LE FEVRE
,
HUGH PURSLOVE BARKER
,
W. H. COOMBS
,
C. M. KELLY
,
L. P. LORD
,
STANLEY HOLLANDS
,
D. H. JOYCE
,
Birch
,
H. J. TANNER
,
J. Cooputt