Continental Link with Home Network
26th January 1951
Page 27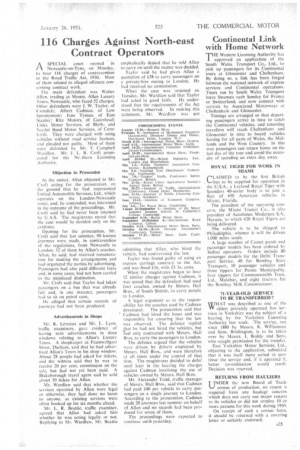 Page 27, 26th January 1951 —
Continental Link with Home Network
Close
THE Western Licensing Authority has
approved an application of the South Wales Transport Co.. Ltd., to pick up passengers for its Continental tours at Gloucester and Cheltenham. By doing so, a link has been. forged between the national network of express services and Continental operations. Tours run by South Wales Transport leave Swansea each Sunday for France or Switzerland, and now connect with arrivals by Associated Motorways at Cheltenham and Gloucester.
Timings are arranged so that departing passengers arrive in time to catch the Continental vehicles, and returning travellers will reach Cheltenham and Gloucester in time to board vehicles leaving for all parts of Wales, the Midlands and the West Country. in this way passengers can return home on the last day of the tour and avoid the necessity of spending art extra day away.
ROYAL TIGER FOR WORK IN MIAMI
CLA1MED to be the first British bus to be supplied for operation in the U.S.A.. a Leyland Royal Tiger with Saunders 40-seater body is to join a fleet of 450 American vehicles in Miami. Florida.
The president of the operating concern, the Miami Transit Co., is also president of Autoboses Modernos S.A.. Havana, to which 620 Royal Tigers are being delivered. • The vehicle is to be shipped to Philadelphia, whence it -will be driven 1.000 miles south.
A large number of Comet goods and passenger models has been ordered by Indian operators. Orders include 80 passenger models for the Delhi Transport Service, 40 for Bombay State . Transport, 10 passenger vehicles and three tippers for Poona Municipality. four tippers for Commonwealth Trust, Ltd., Malabar, and eight tractors for the Bombay Milk Commissioner.
7I-YEAR-OLD SERVICE TO RE TRANSFERRED?
WHAT was described as one of the VV oldest privately operated bus services in Yorkshire was the subject of a hearing by the Yorkshire Lioensing. Authority last week. The service, run since 1880 by Messrs. R. Williamson and Sons, Bridlington, is to be taken over by Messrs. J. Boddy and Sons, who sought permission for the transfer.
East Yorkshire Motor Services, Ltd., objecting to the application, submitted that it was itself more suited to continue the service and, if it operated it. better co-ordination would result. Decision was reserved.
'RETURNS FROM HAULIERS
UNDER the new Board of Trade census of production, no return is required from any haulage concern which does not carry out major repairs to its vehicles or did not employ 10 or more persons for this work during 1950.
On receipt of such a census form, it should be returned with a covering letter or suitably endorsed.