116 Charges Against North-east Contract Operators
26th January 1951
Page 27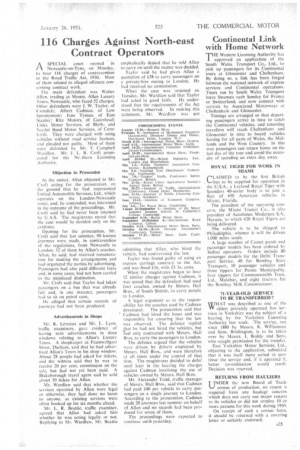 Page 27, 26th January 1951 —
116 Charges Against North-east Contract Operators
Close
ASPECIAL court opened in Newcastle-on-Tyne, on Monday, to hear 116 charges of contravention of the Road Traffic Act, 1930. Most of them related to alleged offences concerning contract work.
The main defendant was Walter Allan. trading as Messrs. Allan Luxury 'louts. Newcastle, who faced 52 charges. Other defendants were J. W. Taylor, of Croxdale; Albert Cadman. of Low Spennymoor; Jane Tyman. of East Stanley; Ritz Motors, of Gateshesid; Links Motor Services, of Blyth; and Scarlet Band Motor Services, of Cornforth. They were charged with using vehicles without road service licences, and pleaded not guilty. Most of them were defended by Mr. T. Campbell Wardlaw. Mr. J. L. R. Croft prosecuted for the Ne.thern Licensing Authority.
Objection to Prosecutor At the outset. Allan objected to Mr. Croft acting for the prosecution, on the ground that he had represented United Automobile Services, Ltd., which operates on the London-Newcastle route, and, he contended, was interested in the outcome of the proceedings. Mr. Croft said he had never been retained by U A.S. The magistrates stated that the case would he decided only on the evidence.
Opening for the prosecution, Mr. Croft said that last summer; 90 known journeys were made, in contravention of the regulations, from Newcastle to London. 52 of them by Allan's coaches. Allan, he said, had received remuneration for making the arrangements and had organized the parties by advertising. Passengers had also paid different fates and, in some cases, had not been carried to the stipulated destination.
Mr. Croft said that Taylor had taken passengers on a bus that was already full and, in one instance, passengers had to sit on petrol cans.
He alleged that certain records of journeys had not been produced.
Advertisements hi Shops
Mr. R. Leveaux and Mr. L. Lyon. traffic examiners, gave evidence of having seen advertisements in shop windows relating to Allan's Luxury Tours. A shopkeeper at Framwellgate Moor, Durham. said that he had advertised Allan's Tours in his shop window. About 28 peoplehad asked for tickets, and the witness said that he was to receive 20 per cent. commission on the sale, but had not yet been paid. A Blakeborough travel agent said he sold about 50 tickes for Allan.
Mr. Wardlaw said that whether the services operated by Allan were legal or otherwise, they had done no harm to anyone, as existing services were often booked up for six months ahead.
Mr. L. R. Beattie, traffic examiner, agreed that Allan had asked him whether he was acting legally or not. Replying to Mr. Wardlaw, Mr. Beattie
emphatically denied that he told Allan to carry on until the matter was decided.
Taylor said he had given Allan a quotation of £38 to carry passengers on a private-hire outing to London. He had received no commission.
When the case was resumed on Tuesday, Mr. Wardlaw said that Taylor.
had acted in good faith. He understood that the requirements of the. Act
were being observed. In making this statement, Mr. Wardlaw was aot admitting that Allan, who hired the vehicle, had contravened the law.
Taylor was found guilty of using an express carriage contrary to the Act, and was fined £16, with £3 3s. costs.
When the magistrates began to hear 12 similar charges against Cadman, it was stated that the defendant had used four coaches, owned by Messrs. Hall Bros., of South Shields, to carry people to London.
A legal argument as to the responsibility for the coaches used by Cadman developed. The prosecution said that Cadman had hired the buses and was responsible for ensuring that the law was observed. The defence replied pat he had not hired the vehicles, but had only contracted with Messrs. Hall Bros. to carry the passengers to London.
The defence argued that the vehicles were driven by drivers employed by Messrs. Hall Bros., and were therefore at all times under the control of that ann. The magistrates decided to defer:. until later in the hearing the charges against Cadman involving the use of vehicles owned by Messrs. Hall Bros, Mr. Alexander Todd, traffic manager of Messrs. Hall Bros., said that Cadman had paid £40 per vehicle to carry passengers on a single journey to London. According to the prosecution, Cadman made 20 journeys last summer on behalf of Allan and no records had been produced for seven of them.
The proceedings were expected to continue until. yesterday.
Tags
People
:
L. Lyon
,
R. Croft
,
W. Taylor
,
Walter Allan
,
Albert Cadman
,
T. Campbell Wardlaw
,
Scarlet Band
,
R. Leveaux
,
Alexander Todd
,
L. R. Beattie
,
Jane Tyman