Vehicle Examiners Fixing New
26th January 1951
Page 26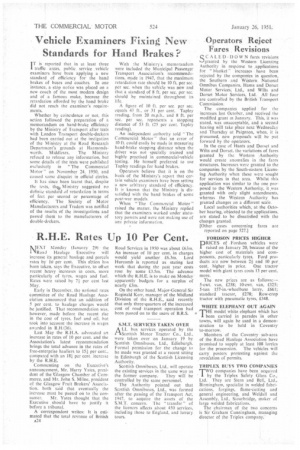 Page 26, 26th January 1951 —
Vehicle Examiners Fixing New
Close
Standards for Hand Brakes ?
I T is reported that in at least three traffic areas, public. service .vehicle examiners have been applying a new standard of efficiency for the hand brakes of buses and coaches. In one inStance. a stop notice was placed on a new coach of the most modern design and of a famous make, because the retardation afforded by the hand brake did not reach the examiner's requirements.
Whether by coincidence or not, this action followed the preparation of a memorandum on hand-brake efficiency by the Ministry of Transport after tests with London Transport double-deckers had been carried out at the instigation of the Ministry at the Road Research Department's grounds at Harmondsworth, Middlesex. The Ministry refused to release any information. but some details of the tests were published exclusively in "The Commercial Motor on November 24. 1950. and caused some disquiet in official circles.
It has since been learnt that, despite the tests. th. Ministry suggested no definite standard of retardation in terms of feet per second or percentage of efficiency. The Society of Motor Manufacturers and Traders was notified of the results of the investigations and passed them to the manufacturers of double-deckers. With the Ministry's memorandum were included the Municipal Passenger Transport Association's recommendations, made in 1947. that the maximum retardation rate should be 10 ft. per sec. per sec. when the vehicle was new and that a standard of 8 ft. per sec. per sec. should be maintained throughout its life.
A figure of 10 ft. per sec. per see. equals 43 ft., or 31 per cent. Tapley reading, from 20 m.p.h., and 8 ft. per sec, per sec. represents a stopping distance of 53 ft. (25 per cent. Tapley reading).
An independent authority told "The Commercial Motor 'S that an error of 10 ft. could easily be made in measuring hand-brake stopping distance when the driver was not specially trained and highly practised in commercial-vehicle testing. He himself preferred to use Tapley readings for hand brakes.
Operators believe that it is on the basis of the Ministry's report that certain vehicle examiners have been setting a new arbitrary standard of efficiency. It is known that the Ministry is dissatisfied with the hand brakes of some post-war models.
When "The Commercial Motor" raised the matter, the Ministry replied that the examiners worked under statutory powers and were not making use of any private information.