R.H.E. Rates Up 10 Per Cent.
26th January 1951
Page 26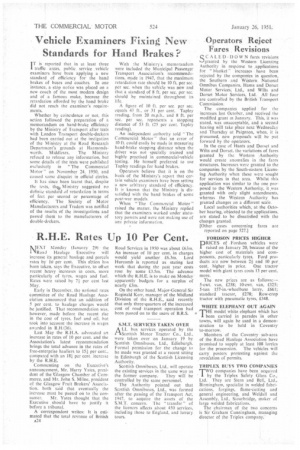 Page 26, 26th January 1951 —
R.H.E. Rates Up 10 Per Cent.
Close
NEXT Monday (January 29) the Road Haulage Executive will increase its general haulage and parcels rates by 10 per cent. This rittion has been taken, says the Executive, to ofiset recent heavy increases in costs, more particularly of tyres. wages and fuel. Rates were raised by 7I per cent last May.
Early in December, the national rates committee of the Road Haulage Association announced that an addition of 5 per cent. to haulage charges would be justified. That recommendation was. however, made before the recent rise in the cost of tyres. fuel and oil, hut took into account the increase in wages awarded in R.H.(36). Last May the R.H.A. advocated an increase in rates of 10 per cent, and the Association's latest recommendation brings the total advance in the rates of free-enterprise hauliers to 15.1 per cent., compared with an 18,1 per cent. increase by the R.H.E.
Commenting on the Executive's announcement, Mr. Harry Yates, president of the 'Glasgow Chamber of Commerce, and Mr. John S. Milne, president of the Glasgow Fruit Brokers' Association, both said that eventually the increase must be passed on to the con sumer. Mr. Yates thought that the Executive .should have to justify it before a tribunal,
A 'correspondent writes: It is estimated that the total revenue of British A24 Road Services in 1950 was about 03m. An increase of It) per cent, in charges would yield another £6.3m. Lord Hurcomb is reported as stating last week that during the past year costs rose by some £3.5m. The advance which the R.H.E. is to make on Monday apparently budgets for a surplus of nearly £3m.
On the othcr hand, Major-General Sir Reginald Kerr, manager of the Midland Division of the R.H.E., said recently that only three-quarters of the increased cost of road transport operation had been passed on to the users of B.R.S.
S.M.T. SERVICES TAKEN OVER
ALLALL bus services operated by the Motor Tractor Co., Ltd.. were taken over on January 19 by Scottish Omnibuses, Ltd" Edinburgh. Formal permission for the change to be made was granted at a recent sitting in Edinburgh of the Scottish Licensing Authority.
Scottish Omnibuses. Ltd.. will operate the existing services in the same way as the former company. They will be controlled by the same personnel.
The Authority pointed out that Scottish Omnibuses, Ltd., was formed after the passing of the Transport Act; 1947. to acquire the assets of the S.M.T. concern. The " transfer " of the licences affects about 450 services, including those to England, and luxury tours.