.Operators Reject Fares Revisions
26th January 1951
Page 26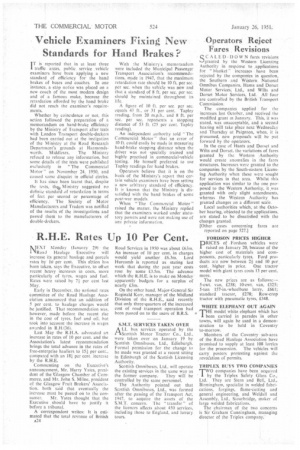 Page 26, 26th January 1951 —
.Operators Reject Fares Revisions
Close
C: ALED13 OW N fares revisions tsigranted by the Western Licensing Authority in response to .applications for "blanket " increases have been rejected by the companies in question. the Southern and Western National Omnibus Companies, Hants and Dorset Motor Services, Ltd., and Wilts and Dorset Motor Services, Ltd. All four are controlled by the British Transport Commission.
The companies applied for the increases last October, and received the modified grant in January. This, it was stated, was unacceptable, and a second hearing will take place next Wednesday and Thursday at Paignton, when. it is presumed, new proposals will be put forward by the operators.
In the case of Hants and Dorset and Wilts and Dorset, the variations of fares granted by the Western Authority would create anomalies in the fares structures. Increases were granted to the companies by the South-eastern Licensing Authority when these were sought for services in that area. Whilst this application was similar to the one proposed to the Western Authority, it .was granted with only slight amendments, whereas the Western Authority has granted changes on a different scale.
Local authorities which, at the October hearing, objected to the applications, are stated to be dissatisfied with the changes granted.
[Other cases concerning fares are reported on page 527.]
FORDSON PRICES HIGHER
PRICES of Fordson vehicles were raised on January 20, because of the higher cost of materials and components, particularly tyres. Ford products are now between 2+ and 10 per cent, higher in price. One tractor model with giant tyres costs 13 per cent. more.
The new prices are as follows:— 5-cwt. van, £238; 10-cwt. van, £325; 5-ton 157-in.-wheelbasc lorry, £661; standard tractor, £278; Row-crop tractor with pneumatic tyres, £348.
WHITE ELEPHANT OUT AGAIN HE model white elephant which has I been carried in parades in other towns, will again be used in a demonstration to be held in Coventry to-morrow.
Members of the Coventry sub-area of the Road Haulage Association have promised to supply at least 108 lorries
for the procession. The vehicles will carry posters protesting egainst the revodation of permits.
TRIPLEX BUYS TWO COMPANIES
r 0 companies have been acquired 'T'WO the Triplex Safety Glass Co., Ltd. They are Stern and Bell, Ltd., Birmingham, specialist in welded fabrications, forgings, flame-cutting and general engineering, and Weldall and Assembly, Ltd., Stourbridge, maker of large welded fabrications. • The chairman of the two concerns is Sir Graham Cunningham, managing director of the Triplex company.