One Hears—
26th January 1951
Page 25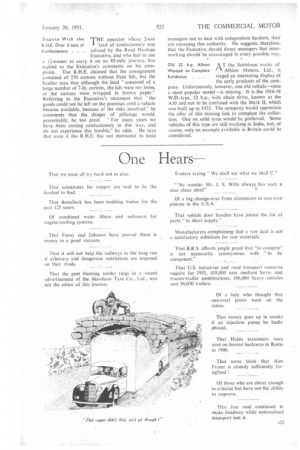 Page 25, 26th January 1951 —
One Hears—
Close
Keywords :
That we must all try hard not to zinc.
That substitutes for copper are said to be the hardest to find.
That Bonallack has been building bodies for the past 125 years.
Of combined water filters and softeners for engine-cooling systems.
That Feeny and Johnson have proved there is
• money in a. good vacuum. _
That it will not help the railways in the long run if arbitrary arid dangerous restrictions are imposed on their rivals.
That the gent blowing smoke rings in a recent advertisement of the Marsham Tyre Co., Ltd., was • not the editor of this journal. Traders saying "We shall see what we shall C."
"No wonder Mr. J. S. Wills always has such a nice clean shirt!"
Of a big change-over from aluminium to cast-iron pistons in the U.S.A.
That vehicle door. handles have joined the list of parts " in short _supply."
Manufacturers complaining that a raw deal is pot a satisfactory substitute for raw materials.
That B.R.S. affords ample proof that "to conipete" is not necessarily synonymous with "to be competent." _ _ That U.S. industries and road transport concerns require for 1951, 418,000 new medium lorryand tractor-trailer combinations, 106,000 heavy vehicles and 96,030 trailers.
Of a lady who thought' that universal joints were on the ration.
That money goes up in smoke if an injection pump be badly phased.
That' Halda . taximeters were used on horsed hackneys in Rome in 1900.
That some think that Alex Fraser is already sufficiently farsighted !
Of those who are clever enough. to criticize but have not the ability to improve.
That free steel continued to make headway while nationalized transport lost it.