Quarts Out of Pint Pots
26th January 1951
Page 23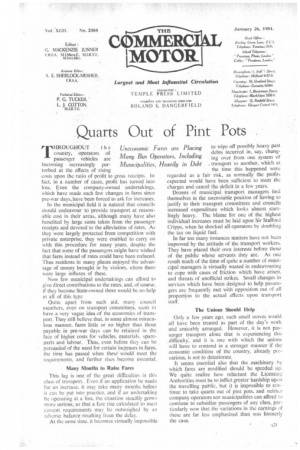 Page 23, 26th January 1951 —
Quarts Out of Pint Pots
Close
Keywords :
HROU GROUT t h c country, • operators of passenger vehicles are becoming increasingly perturbed at the effects of rising costs upon the ratio of profit to gross receipts. In fact, in *a number of cases, profit has turned into loss. Even the company-owned undertakings, which have made such few changes in fares since pre-war days, have been forced to ask for increases.
In the municipal field it is natural that councils should endeavour to provide transport at reason'able cost in their areas, although many have also benefited by large sums taken from the passenger receipts and devoted to the alleviation of rates. As they were largely protected from competition with private enterprise, they were enabled to carry on with this procedure for many years, despite the fact that some of the passengers might have wished that fares instead of rates could have been reduced. Thus residents in many places enjoyed theadvantage of money brought in by visitors, where there were large influxes of these.
Now few municipal undertakings can afford to give direct contributions to the rates, and, of course. if they become State-owned there would be no help at all of this type Quite apart from such aid, many council members, even on transport committees, seem to have a very vague idea .of the economics of transport. They still believe that, in some almost miracttlous manner, fares little or no higher than those payable in pre-war days can be retained in the face of higher costs for vehicles, materials, spareparts and labour. Thus, even before they can he persuaded of the need for certain increases in fares, the time has passed when these -would meet the requirements. and further rises become essential.
Many Months to Raise Fares This lag is one of the great difficulties in this class of transport. Even if an application be made for an increase, it may take many months before it can he put into practice, and if an undertaking he operating at a loss, the situation steadily grows more serious, so that a fare rise calculated to meet current requirements may be outweighed by an adverse balance resulting from the delay.
At the same time. it becomes virtually impossible to wipe off possibly heavy past debts incurred in, say, changing over from one system of , transport to another, which at the time this happened were regarded as a fair risk, as normally the profits expected would have been sufficient to meet the charges and cancel the deficit in a few years.
Dozens of municipal transport managers find themselves in the unenviable position of having to justify to their transport committees and councils increased expenditure which looks almost startlingly heavy. The blame for one of the highest individual increases must be laid upon Sir Stafford Cripps, when he shocked all operators by doubling the tax on liquid fuel.
In far too many instances matters have not been improved by the attitude of the transport workers. They have placed their own interests before those of the public whose servants they are. As one result much of the time of quite a number of municipal managers is virtually wasted in endeavouring to cope with cases of friction which have arisen, and threats of unofficial strikes. Small changes in services which have been designed to help passengers are frequently met with opposition out of all proportion to the actual effects upon transport staff.
The Unions Should Help Only a few years ago, such small moves would all have been treated as part of the day's work and amicably arranged. However, it is not passenger transport alone that is experiencing this difficulty' and it is one with which the unions will have to contend in a stronger manner if the economic condition of the country, already precarious, is not to deteriorate.
It seems essential also that the -machinery by which fares are modified should be speeded up. We quite realize how reluctant the Licensing Authorities must be to inflict greater hardship upon the travelling public, but it is impossible to continue to take quarts 0111 of pint pots, and neithcr company operators nor municipalities can afford to continue to subsidize passengers of any class, particularly now that the variations in the earnings ,-)f these are far less emphasized than was formerly the case. •