FORTHCOMING EVENTS BEFORE THE COMMISSIONERS
26th January 1932
Page 52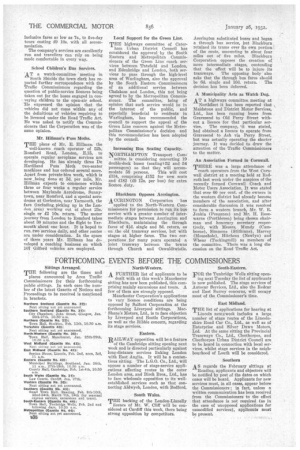 Page 52, 26th January 1932 —
FORTHCOMING EVENTS BEFORE THE COMMISSIONERS
Close
THE following are the times and
places announced by Area Traffic Commissioners for their forthcoming public sittings. In each case thenumber of the latest Gazette of Notices and Proceedings to be received is mentioned in brackets.
Northern Scotland (Gazette leo. 32):
Next sitting not Yet announced.
Southern Scotland (Gazette Ns. 31):
City Chambers, John Street, Glasgow, Jan. 26th-27th. 10.30 a.m.
Northern (Gazette No. 22): Town Tall, Stockton, Feb. 11th, 10.30 a.m. Yorkshire (Gazette 40):
Next sitting not yet announced.
North-Western (Gazette No. 36):
town Hall, Manchester, Jan, 25t12-29th, 10 30 a.rn,
West midland (Gazette Mc. 43):
Next. sittIng not yet announced.
East Midland (Gazette No. 45): Session House, Lincoln, Feb. 2nd, noon, Sod, 11 a.m.
Eastern (Gazette No. 40):
Municipal Buildings, Southend, Jan. 26th, 11 a.m., 27th.-28th, 10.30 a.m.
County Hell, Cambridge, Feb. lot-4th, laso
South Wales (Gazette No. 31): Western (Gazette No. 30):
Law Courts, Cardiff, Jan, 27th.
Next sitting not yet announced.
Southern (Gazette No. 43):
Sraa31 Town Hall, Reading, Feb. 8th-10th, 22n4-24th, March 7th, 24th (for seasonal express services, excursions and bows). South-Eastern (Gazette Na.
Town Hall, Tunbridge Wells, Feb. 2nd and following days. 1040 a.m.
Metropolitan (Gazette No. 44):
Next sitting not yet announced.
A FURTHER list of applicants to be dealt with at this week's Manchester sitting has now been published, this comprising mainly excursions and tours. A few of them are strongly opposed.
Manchester Corporation's applications to vary licence conditions are being opposed by Salford Corporation at the forthcoming Liverpool sittings. MacShane's Motors, Ltd., is to face objection by Liverpool and Bootle Corporations, as well as the Ribble concern, regarding its stage services.
Eastern.
RAILWAY opposition will be a feature of the Cambridge sitting opening next week and is directed particularly against long-distance services linking London with East Anglia. It will be a contentious sitting. The L.G.O. Co., Ltd., will oppose a number of stage-service applications affecting routes in the outer London area, and Birch Bros., Ltd., has to face wholesale opposition to its wellestablished services such as that connecting Aldwych, London, with Bedford.
South Wales.
THE backing of the London-Llanelly licence of Mr. W. Cliff will be considered at Cardiff this week, there being strong opposition by competitors.
South-Eastern.
FOR the Tunbridge Wells sitting open ing next Tuesday the list of applicants is now published. The stage services of Autocar Services, Ltd., also the Redcar and East Surrey concerns, will occupy most of the Commissioner's time.
East Midland. •
THE list of applications for hearing at Lincoln next( week includes a large number of stage routes of the Lincolnshire Road Car Co., Ltd., as well as of Enterprise and Silver Dawn Motors, Ltd. At the same sitting the Provincial Tramways Co., Ltd., Cleethorpes, and Cleethorpes Urban District Council are to be heard in connection with local services, whilst stage services in the neighbourhood of Louth will be considered.
Southern AS regards the February sittings at
Reading, applicants and objectors will be notified by post of the dates on whichcases will be heard. Applicants for new services must, in all cases, appear before the Commissioners ; in fact, unless a written communication has been received from the Commissioners to the effect that attendance is not required (as in the case of unopposed applications for unmodified services), applicants must be present.