Items of News in a Few Lines
26th January 1932
Page 49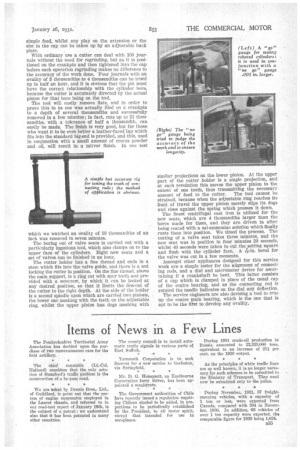 Page 49, 26th January 1932 —
Items of News in a Few Lines
Close
The Pembrokeshire Territorial Army Association has decided upon the purchase of two reconnaissance cars for the field artillery.
The chief constable (Lt.-Col. Holland) considers that the only solution of Stamford's traffic problem is the construction of a by-pass road.
We are asked by Dennis Bros.. Ltd., of Guildford, to point out that the system of engine suspension employed in the Lancet chassis, and referred to in our road-test report of January 19th, is the subject of a Patent; we understand also, that it has been patented in many other countries.
The county council is to install automatic traffic signals in various parts of East Suffolk.
Yarmouth Corporation is to, seek lice/1mi for a new service to Gorleston; via Springfield, Mr. D. G. Honeysett, an Eastbourne Corporation lorry driVer, has been p.p.; pointed a magistrate.
The Government authorities of Chile have recently issued a regulation requiring Chilean alcohol to be added, in pro portions to be periodically established by the President, to all motor spirit, except that intended for use in aeroplanes.
During 1931 crude-oil production in Russia amounted to 22,335,000 tons, equivalent to an increase of 21i per cent. on the 1930 output.
As the principles of white traffic lines are so well known, it is no longer necessary for such schemes to be submitted to the Ministry of Transport. They need now be submitted only to the police.
• During November, 1931, 57 freightcarrying vehicles, with a capacity of 1 ton or less, were exported from Canada, compared with 304 in November, 1930. In addition, 613 vehicles of over 1 ton capacity were exported, the comparable figure for 1930 being 1,024.