The First Manual on Oil I:ngines
26th January 1932
Page 45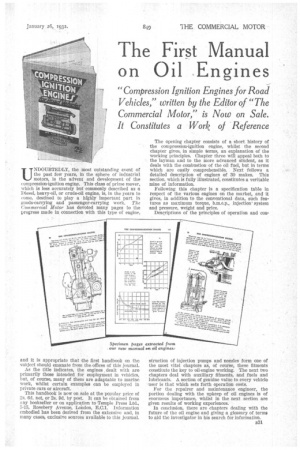 Page 45, 26th January 1932 —
The First Manual on Oil I:ngines
Close
"Compression Ignition Engines for Road Vehicles," written by the Editor of "The Commercial Motor," is Now on Sale.
It Constitutes a Work of Reference
UNDOUBTEDLY, the most outstanding event of the past few years, in the sphere of industrial motors, is the advent and development of the compression-ignition engine. This class of prime mover, which is less accurately but commonly described as a Diesel, heavy-oil, or crude-oil engine, is, in the years to come, destined to play a highly important part in goods-carrying , and passenger-carrying work. The Commercial Motor has devoted many pages to the progress made in connection with this type of engine,
and it is appropriate that the first handbook on the Lubject should emanate from the offices of this journal.
As the title indicates, the engines , dealt with are primarily those intended for employment in vehicles, hut, of course, many of them are adaptable to marine work, whilst certain examples can be employed in private cars or aircraft.
This handbook is now on sale at the popular price of 2s. 6d. net, or 2s. Pd. by post. It can be obtained from any bookseller or on application to Temple Press Ltd., 5-15, Rosebery 44.venue, London, E.C.1. Information embodied has been derived from the extensive and, in many cases, exclusive sources available to this journal
The opening chapter consists of a short. history of the compression-ignition engine, whilst the second chapter gives, in simple terms, an explanation of the working principles. Chapter three will appeal both to the layman and to the niore advanced student, as it deals with the combustionof the oil fuel, but in terms which are easily comprehensible. Next follows a detailed description of engines of 30 makes. This section, which is fully illustrated, constitutes a veritable mine of information.
Following this chapter is a specification table in respect of the various engines on the market, and it gives, in addition to the conventional data, such features as maximum torque, b.m.e.p., injection system and pressure, weight and price.
Descriptions of the principles of operation and con struction of injection pumps and nozzles form one of the most vital chapters as, of course, these fitments constitute the key to oil-engine working. The next two chapters deal with auxiliary fitments, and fuels and lubricants. A section of genuine value to every vehicle user is that which sets forth operation costs.
For the repairer and maintenance engineer, the portion dealing with the upkeep of oil engines is of enormous importance, whilst in the next section are given results of working experiences.
In conclusion, there are chapters dealing with the future of the oil engine and giving a glossary, of terms to aid the investigator in his search for information.