AN INGENIOUS PETROL TAP
26th January 1932
Page 42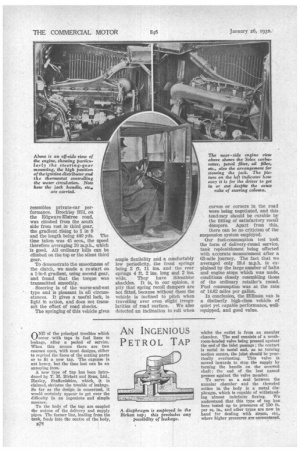 Page 42, 26th January 1932 —
AN INGENIOUS PETROL TAP
Close
Oi of the principal troubles which occur with taps in fuel lines is leakage, after a period of service. When this occurs there are two courses open, with most designs, either to regrind the faces of the mating parts or to fit a new tap. The expense is not heavy, but the time lost can be an annoying item.
A new type of tap has been introduced by T. M. Birkett and Sons, Ltd., Ifanley, Staffordshire, which, it is claimed, obviates the -trouble of leakage. So far as the design is concerned, it would certainly appear to get over the difficulty in an ingenious and simple manner.
To the body of the tap are coupled the unions of the delivery and supply pipes. The former line, leading from the tank, feeds into the centre of the body, B28 whilst the outlet is from an annular chamber. The seal consists of a mushroom-headed valve being pressed against the end of the inlet passage; the contact is metal to metal and, as no turning motion occurs, the joint should be practically everlasting. This valve is moved inwards to stop the supply by turning the handle on the screwed shaft; the end of the last named presses against the valve member.
To serve as a seal between the annular chamber and the threaded orifice in the body is a metal dMphragm, which is capable of withstanding almost indefinite flexing. We understand that this type of tap has been tested up to pressures of 150 lb. per sq. in., and other types are now in hand for dealing with steam, etc., where higher pressures are encountered.