MUNICIPAL PURCHASES and PROPOSALS
26th January 1932
Page 37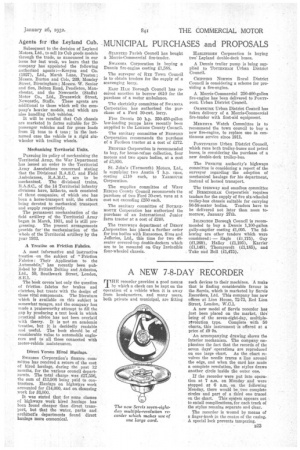 Page 37, 26th January 1932 —
MUNICIPAL PURCHASES and PROPOSALS
Close
STANSTED Parish Council has bought a Morris-Commercial fire-tender.
SWANSEA Corporation is buying a Dennis fire-engine costing £1,588.
The surveyor of RYE Town Council is to. obtain tenders for the supply of a scavenging lorry.
EAST lam Borough Council has received sanction to borrow £610 for the purchase of a motor ambulance.
The electricity committee of SwANsits. Corporation has authorized the purchase of a Ford 30-cwt. lorry.
Five Dennis 50 h.p. 350-450-gallon low-loading pumps have recently been supplied to the Lon-note County Council.
The sanitary committee of BEDFORD Corporation recommends the purchase of a Fordson tractor at a cost of £172.
BEDFORD Corporation is recommended to buy, for house-refuse collection, four motors and two spare bodies, at a cost of n>coo.
St. John's (Yarmouth) Motors, Ltd., is supplying two Austin 7 h.p. vans, Costing £110 each, to iARMOETH Corporation.
The supplies committee of WEST RIDING County Council recommends the purchase of two Ford 30-cwt. vans at a cost not exceeding £250 each.
The sanitary committee of BOERNEMOUTH Corporation has authorized the purchase of an International Junior farm tractor at a cost of £240.
The tramways department of Dsaurr .Corporation has placed a further order for bus bodies with Ransomes, Sims and Jefferies, Ltd., this time for two 48seater covered-top donble-deckers which are to be mounted on Guy Invincible four-wheeled chassis. HASLINGDEN Corporation is buying two Leyland double-deck buses.
A Dennis trailer pump is being supplied to TOTTENHAM Urban District Council.
CHIPPING NORTON Rural District Council is considering a scheme for providing a fire-engine.
A Morris-Commercial 250-400-gallon fire-engine has been delivered to PONTYPOOL Urban District Council.
ORMSKIRK Urban District Council has taken delivery of a Morris-Commercial fire-tender with first-aid equipment.
MERTHYR Watch Committee is to recommend the town council to buy a new fire-engine, to replace one in continuous service since 1911.
PONTYPRIDD Urban District Council, which runs both trolley-buses and petrol buses, is considering the purchase of a new double-deck trolley-bus.
The PENRITH authority's highways committee is considering a report of the surveyor regarding the adoption of mechanical haulage for his department, instead of horsed transport.
The tramway and omnibus committee of Brastanneus Corporation requires tenders for the supply of five six-wheeled trolley-bus chassis suitable for carrying 56-58-seater bodies. Tenders have to be delivered not later than noon tomorrow, January 27th.
ISLUNGTON Borough Council is recommended to buy a Dennis 1,100-gallon gully-emptier costing £1,095. The following are other tenders'Which were considered: — Eagle (£1,175), Guy (£1,269), Halley (£1,195), Karrier (11,149), Thornyoroft (4185), and Take and Bell (£1,475).
Tags
Organisations
:
RYE Town Council
,
MERTHYR Watch Committee
,
ORMSKIRK Urban District Council
,
TOTTENHAM Urban District Council
,
Urban District Council
,
Watch Committee
,
MUNICIPAL PURCHASES and PROPOSALS STANSTED Parish Council
,
Borough Council
,
County Council
,
PONTYPOOL Urban District Council
,
ISLUNGTON Borough Council
,
CHIPPING NORTON Rural District Council
,
WEST RIDING County Council