Agents for the Leyland Cub.
26th January 1932
Page 37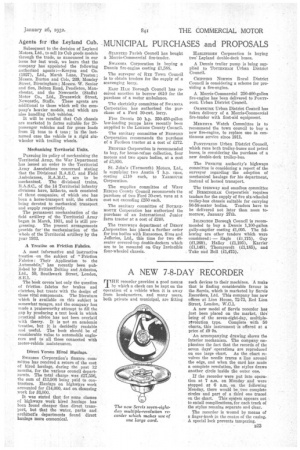 Page 37, 26th January 1932 —
Agents for the Leyland Cub.
Close
Subsequent to the decision of Leyland Motors, Ltd., to sell its Cub goods models through the trade, as announced in our issue for last week, we learn that the company has appointed the following authorized agents :—Kenyon and Co. (1927), Ltd., Marsh Lane, Preston; Messrs. Burton and Cole, 269, Moseley Street, Birmingham ; Messrs. W. Senior and Son, Bolton Road, Pendleton, Manchester, and the Newcastle (Staffs) Motor Co., Ltd., Brunswick Street, Newcastle, Staffs. These agents are additional to those which sell the company's heavier models, and which are also handling Cub vehicles.
It will be recalled that Cub chassis are marketed in forms suitable for 20passenger vehicles and for gross loads from 2i tons to 4 tons ; in the lastnamed case the vehicle is a rigid sixwheeler with trailing wheels.
Mechanizing Territorial Units.
Pursuing its policy of mechanizing the Territorial Army, the War Department has issued an order to the Territorial Army Associations concerned stating that the Divisional R.A.S.C. and Field Ambulances, R.A.M.C., are to be mechanized. The divisional trains, R.A.S.C., of the 14 Territorial infantry divisions have, hitherto, each consisted of three companies, of which one has been a horse-transport unit, the others being devoted to mechanical transport and supply respectively.
The permanent mechanization of the field artillery of the Territorial Army began in March, 1931, and is still pro gressing. The present arrangements provide for the mechanization of the whole of the Territorial artillery by the year 1933.
A Treatise on Friction Fabrics.
A most informative and instructive treatise on the subject of "Friction Fabrics: Their Application to the Automobile," has recently been published by British Belting and Asbestos, Ltd., 59, Southwark Street, London, S.E.1.
The book covers not only the question of friction fabrics for brakes and clutches, but treats with the design of these vital components. The literature which is available on this subject is somewhat meagre, and the company has made a praiseworthy attempt to fill the gap by producing a text book in which practical advice has not been overlaid with theory. It is not an academic treatise, but it is decidedly readable and useful. The book should be of considerable value to automobile engineers and to all those connected with motor-vehicle maintenance.
Direct 'Versus Hired Haulage.
Swansea Corporation's finance committee has received a return of the cost of hired haulage, during the past 12 months, for the various council departments. The total charge was £27,556, the sum of £13,908 being paid to contractors. Haulage on highways work accounted for 114,000, and on cleansing work for £6,000.
It was stated that for some classes of highways work hired haulage has been found cheaper than direct transport, but that the water, parks and architect's departments found direct haulage more economical.