A NEW 7-8-DAY RECORDER
26th January 1932
Page 37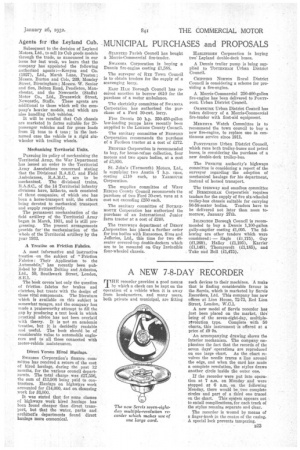 Page 37, 26th January 1932 —
A NEW 7-8-DAY RECORDER
Close
MEER recorder provides a good means by which a check can be kept on the operation of a vehicle when it is away from headquarters, and many users, both private and municipal, are fitting such devices to their machines. A make that is finding considerable favour is the Servis, which is marketed by Servis Recorders, Ltd. This company has new offices at Lion House, 72-75, Red Lion Street, London, W.C.1.
A new model of Servis recorder has just been placed on the market, thii being of the seven-eight-day, multiplerevolution type. Complete with 50 charts, this instrument is offered at a price of £9 9s.
An accompanying drawing shows the interior mechanism. The company emphasizes the fact that the records of the seven days' operations are reproduced on one large chart. As the chart revolves the needle traces a line around the edge, and when the card has made a complete revolution, the stylus draws another circle inside the outer one.
If the recorder were put into operation at 7 a.m. on Monday and were stopped at 6 a.m. on the following Monday, there would be two complete circles and part of a third one traced on the chart. This system appears not to entail complications, for each track of the stylus remains separate and clear.
The recorder is wound by means of a finger-knob in the centre of the casing. A special lock prevents tampering.