Oil-engined Railcars in Ireland.
26th January 1932
Page 36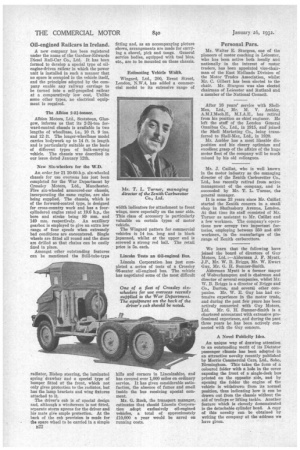 Page 36, 26th January 1932 —
Oil-engined Railcars in Ireland.
Close
A new company has been registered under the name of the Gardner-Edwards Diesel Rail-Car Co., Ltd. It has been formed to develop a special type of oilengine-driven railcar in which the power unit is installed in such a manner that no space is occupied in the vehicle itself, and the principles adopted by the company enable any railway carriage to be turned into a self-propelled railcar at a comparatively low cost. Unlike some other types, no electrical equipment is required.
The Albion 2-21-tonner, Albion Motors, Ltd., Scotstoun, Glasgow, informs us that its 2-2*-ton forward-control chassis is available in two lengths of wheelbase, i.e., 10 ft. 9 ins. and 12 ft. The longer-wheelbase model carries bodywork up to 14 ft. in length and is particularly suitable as the basis of different types of bulk-carrying vehicle. The chassis was described in our issue dated January 12th.
New Six-wheelers for the W.D.
An order for 21 20-60-h.p. six-wheeled chassis for use overseas has jest been completed for the War Department by Crossley Motors, Ltd., Manchester. Five six-wheeled armoured-car chassis, incorporating the same engine, are also being supplied. The chassis, which is of the forward-control type, is designed for cross-country work and has a fourcylindered engine rated at 19.6 h.p., the bore and stroke being 89 ram. and 149 ram. respectively. An auxiliary gearbox is employed to give an extra low range of four speeds when extremely bad conditions are encountered. Single wheels are fitted all round and the discs are drilled so that chains can be easily fixed in place.
Amongst other outstanding features can be mentioned the Still-tube-type radiator, Bishop steering, the laminated spring drawbar and a special type of bumper fitted at the front, which not only gives protection to the radiator, but has the lamp brackets and wing fixtures attached to it.
The driver's cab is of special design and, although a windscreen is not fitted, separate storm aprons for the driver and his mate give ample protection. At the back of the cab provision is made for the spare wheel to be carried in a simple B22 fitting and, as an accompanying picture shows, arrangements are made for carrying a shovel, pick and tangs. General service bodies, equipped with tool bins, etc., are to be mounted on these chassis.
Estimating Vehicle Width.
Wingard, Ltd., 200, Brent Street, London, N.W.4, has added a commercial model to its extensive range of width indicators for attachment to front wings, more especially on the near side. This class of accessory is particularly valuable on certain types of motor vehicle.
The Wingard pattern for commercial vehicles is 14 ins, long and is black japanned, whilst at the upper end is screwed a strong red ball. The retail price is 5s. each.
Lincoln Testa an Oil-engined Bus.
Lincoln Corporation has just completed a series of tests of a Crossley 66-seater oil-engined bus. The vehicle has negotiated some of the most difficult hills and corners in Lincolnshire, and has covered over 1,000 miles on ordinary service. It has given considerable satisfaction, the absence of fumes and smell inside the bus receiving special comment.
Mr. G. Rock, the transport manager, estimates that should Lincoln Corporation adopt exclusively oil-eng-ined vehicles, a total of approximately 110,000 a year would be saved on running costs.
Personal Pars.
Mr. Walter E. Sturgess, one of the pioneers of motor coaching in Leicester, who has been active both locally and nationally in the interest of motor traders, has been appointed vice-chairman of the East Midlands Division of the Motor Trades Association, whilst Mr. C. Gilbert has been elected to the chair. Mr. Sturgess was also elected chairman of Leicester and Rutland and a member of the National Council.
After 16 years' service with ShellMex, Ltd., Mr. M. V. Ambler, A.M.I.Mech.E., M.I.A.E., hag retired from his position as chief engineer. He left the staff of the London General Omnibus Co., Ltd., in 1915, and joined the Shell Marketing Co., being transferred to Shell-Mex, Ltd., in 1920.
Mr. Ambler has a most likeable disposition and his cheery optimism and excellent grasp of the affairs of the huge motor fleet of the company will be much missed by his old colleagues.
Mr. J. Caillat, who is well known in the motor industry as the managing director of the Zenith Carburetter Co., Ltd., has recently retired from active management of the company, and is succeeded by Mr. T. L. Turner, the general manager.
It is some 23 years since Mr. Caillat started the Zenith concern in a small shop in Shaftesbury Avenue, London. At that time its staff consisted of Mr. Turner as assistant to Mr. Caillat and a few workmen. The company's operations now occupy two important factories, employing between 350 and 400 workmen, in the manufactu,re of the range of Zenith carburetters.
We learn that the following have joined the board of directors of Guy Motors, Ltd. :—Alderman J. F. Myatt, LP., Mr. W. B. Briggs, Mr. W. Ewart Guy, Mr. G. H. Sumner-Smith.
Alderman Myatt is a former mayor of Wolverhampton and is chairman and director of several companies, whilst Mr_ W. B. Briggs is a director of Briggs and Co., Burton, and several other companies. Mr. W. E. Guy has had extensive experience in the motor trade, and during the past few years has been actively connected with Guy Motors, Ltd. Mr. G. H. Sumner-Smith is a chartered accountant with extensive pro.fessional experience, and during the past three years he has been actively connected with the Guy concern.
A Novel Publicity Idea.
An unique way of drawing attention to an outstanding merit of its Dictator passenger chassis has been adopted in an attractive novelty recently published by Morris Commercial Cars, Ltd., Soho, Birmingham. This takes the form of a coloured folder with a hole in the cover exposing the front of a single-deck bus printed on the opposite side, and by opening the folder the engine of the vehicle is withdrawn from its normal position, thus indicating how it can be drawn out from the chassis without the aid of trolleys or lifting tackle. Another feature which is cleverly demonstrated is the detachable cylinder head. A copy of this novelty can be obtained by writing the company at the address we have given.
Tags
People
:
J. Caillat
,
M. V. Ambler
,
G. Rock
,
T. L. Turner
,
W. B. Briggs
,
W. Ewart
,
Walter E. Sturgess
,
C. Gilbert
,
Lincoln Testa
,
G. H. Sumner-Smith
,
Myatt