Taxation Receipts. in 1931.
26th January 1932
Page 35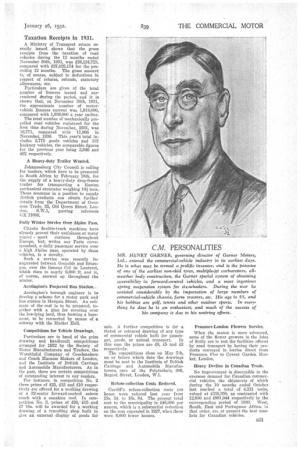 Page 35, 26th January 1932 —
Taxation Receipts. in 1931.
Close
A. Ministry of Transport return recently issued shows that the gross receipts from the taxation of road vehicles during the 12 months ended November 30th, 1931, was £28,134,723, compared with £27,825,174 for the preceding 12 months. The gross amount is, of course, subject to deductions in respect of rebates, refunds, statutory allowances, etc.
Particulars are given of the total number of licences issued and surrendered (luring the period, and it is shown that, on November 30th, 1931, the approximate number of motorvehicle licences current was 1,918,000, compared with 1,936,000 a year earlier.
The total number of mechanically propelled road vehicles registered for the first time during November, 1931, was 16,771, compared with 17,968 in November, 1930. This year's total includes 3,775 goods vehicles and 337 hackney vehicles, the comparable hgures for the previous year being 3,946 and 492 respectively.
A Heavy-duty Trailer Wanted.
Johannesburg City Council is calling for tenders, which have to be presented in South Africa by February 18th, for the supply of a heavy-duty drop-frame trailer for transporting a Ruston mechanical excavator weighing 161 tons. Those concerns in a position to supply British products can obtain further details from • the Department of Overseas Trade, 35, Old Queen Street, London,• S.W.1, quoting reference GX 11088.
Daily Winter Service Over Alpine Pass.
Citran flexible-track machines have already proved their usefulness at many winter sport stations throughout Europe, but, writes. our Paris correspondent, a daily passenger service over a high Alpine pass, operated by these vehicles, is a novelty.
Such a service was recently inaugurated between Grenoble and Briancon, over the famous Col de Lauteret, which rises to nearly 6,000 ft. and is, of course, snowed up throughout the winter.
Acerington's Projected Bus Station..
Accrington's borough engineer is to . develop a scheme for a motor park and bne station in Marquis Street. An estimate of the cost is to be prepared, together with a plan for covering over ilie low-lying land, thus forming a basement, to be connected by means of a subway with the Market Hall.
Competitions for Vehicle Drawings.
Particulars are to hand of the prize drawing and handicraft competitions arranged for 1932 by the Society of Motor Manufacturers and Traders, the Worshipful Company of Coachmakers Out] Coach Harness Makers of London, and the Institute of British Carriage and Automobile Manufacturers. As in the past, there are certain competitions of outstanding interest to our readers.
For instance, in competition No. 2 three prizes of £25, £15 and £10 respectively are offered for a working drawing of a 32-seater forward-control saloon coach with a sunshine roof. In cornpetition No. 8, prizes of 120, -£15. and 17 10s. will be awarded for a working drawing a a travelling shop built to give an external display of goods for
sale. A further competition is for a tinted or coloured drawing of any type of commercial vehicle built for passen ger, goods, or animal transport. In this case the prizes are £8, £5 and £3 respectively.
The competitions close on May 7th, on or before which date the drawings must be sent to the Institute of British Carriage and Automobile Manufacturers, care of the Polytechnic, 309, Regent Street, London, W.1.
Refuse-collection Costs Reduced.
Cardiff's refuse-collection costs per house were reduced last year from 18s. 3d. to 16s. 8d. The present total cost to the municipality is 146,000 per annum, which is a substantial reductionon the sum expended in 1927, when there were 6,000 fewer houses.
Penzance-London Flowers Service.
When the season ia more advanced, some of the flower growers in the Isles of Scilly are to test the facilities offered by road transport by having their products conveyed in lorries direct from Penzance Pier to Covent Garden Market, London.
Heavy Decline in Canadian Trade.
No improvement is discernible in the overseas demand for Canadian commercial vehicles, the shipments of which during the 10 months ended October last reached a total of 4,311 units, valued at £339,350, as contrasted with 12,930 and £991,044 respectively in the corresponding period of 1930, West, South, East and Portuguese Africa, that order, are at present the best markets for Canadian vehicles.