The Legality of Travelling Showrooms.
26th January 1932
Page 32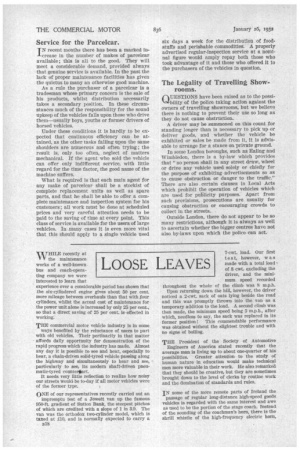 Page 32, 26th January 1932 —
The Legality of Travelling Showrooms.
Close
QUESTIONS have been raised as to the possibility of the police taking action against the owners of travelling showrooms, but we believe there is nothing to prevent their use so long as they do not cause obstruction.
A driver may be summoned on this count for standing longer than is necessary to nick up or deliver goods, and whether the vehicle be exhibited or sales be made from it, it is advisable to arrange for a stance on private ground.
In some London boroughs, such as Ealing and Wimbledon, there is a by-law which provides that "no person shall in any street draw, wheel or drive any vehicle used solely or chiefly for the purpose of exhibiting advertisements so as to cause obstruction or danger to the traffic." There are also certain clauses in Local Acts which prohibit the operation of vehicles which are used for publicity purposes. Apart from such provisions, prosecutions are usually for causing obstruction or encouraging crowds to collect in the streets.
Outside London, there do not appear to be so many restrictions, although it is always as well to ascertain whether the bigger centres have not also by-laws upon which the police can act.