Opportunities for the Oil Engine
26th January 1932
Page 31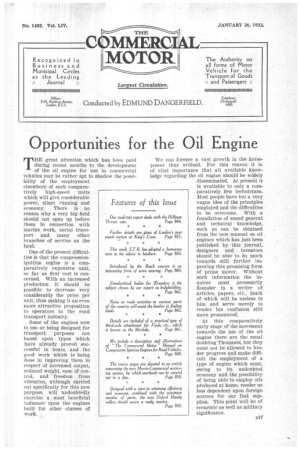 Page 31, 26th January 1932 —
Opportunities for the Oil Engine
Close
THE great attention which has been paid during recent months to the development of the oil engine for use in commercial vehicles may be rather apt to shadow the possibility of the employment elsewhere of such compara tively high-speed units which will give considerable power, silent running and economy. There is no reason why a very big field should not open up before them in connection with marine work, aerial transport and many other branches of service on the land.
One of the present difficulties is that the compressionignition engine is a comparatively expensive unit, so far as first cost is concerned. With an increased production it should be possible to decrease very considerably the price per unit, thus making it an even more attractive proposition to operators in the road transport industry.
Some of the engines now in uSe or being designed for transport purposes are based upon types which have already proved successful in boats, and the good work which is being done in improving them in • respect of increased output, reduced weight, ease of con-. trol, and freedom from vibration, although carried out specifically for this new purpose, will undoubtedly exercise a most beneficial influence upon the engines built for other classes of worl_g• We can foresee a vast growth in the horsepower thus utilized. For this reason it is of vital importance that all available knowledge regarding the oil engine should be widely disseminated. At present it is available to only a coin paratively few technicians. Most people have but a very vague idea of the principles employed and the difficulties to be overcome. With a foundation of sound general and technical knowledge, such as can be obtained from the new manual on oil engines which has just been published by this journal, designers and inventors should be able to do much towards still further improving this promising form of prime mover. Without such information the inquirer must necessarily flounder in a welter of articles, papers, etc., Much of which will be useless to him and serve merely to render his confusion still more pronounced.
At this comparatively early stage of the movement towards the use of the oil engine there are the usual doubting Thomases, but they must not be allowed to hinder progress and make difficult the employment of a type of engine which must, owing to its undoubted economy and the possibility of being able to employ oils pt'oduced at home, render us less dependent upon foreign sources for our fuel supplies. This point will be of economic as well as military significance.