One Hears—
26th January 1911
Page 4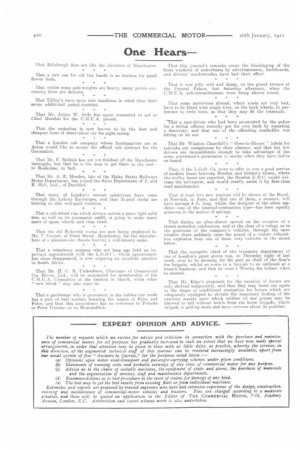 Page 5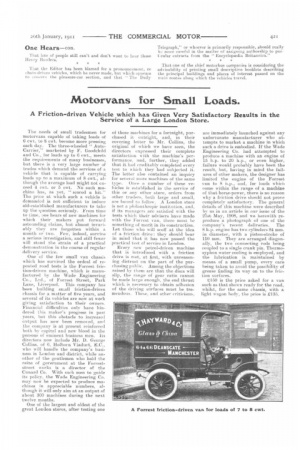 Page 4, 26th January 1911 —
One Hears—
Close
That Edinburgh does not like the elevation of Manchester.
That a new use for old tire bands is as borders for small flower beds.
That whilst some axle-weights are heavy, many points concerning them are delicate.
That Tilling's have more new machines in mind than their seven additional petrol-electries.
That Mr. Julian W. Orde has again consented to act as Chief Marshal for the C.M.T.T.A. parade.
That the motorbus is now known to be the best and cheapest form of observation car for sight-seeing.
That a London cab company whose headquarters are at Acton would like to secure the official cab contract for the Coronation.
That Mr. F. Bullock has not yet finished off the Manchester imbroglio, but that he is the man to get there in the end—
to Rusholme, in fact, That Mr. A. E. Meaden, late of the Malay States Railways Motor Department, has joined the Sales Department of 3, and E. Hall, Ltd., of Dartford.
That many of London's newest cabdrivers have come through the Labour Exchanges, and that ill-paid clerks are turning to this well-paid vocation That a cab-wheel rim which always carries a spare light solid tire, as well as its pneumatic outAt, is going to make many users of spare wheels and rims tired.
That the old Ryknield works are now being employed by Mr. T. Garner, of Peter Street. Manchester, for the manufacture of a pleasure-car ehaAsis bearing a well-known name.
That a veterinary surgeon who not long ago held an important appointment with the L.G.O.C., which appointment has since disappeared, is now enjoying an excellent practice
in South Africa.
That Mr. H. C. B. Underdown, Chairman of Commercial Car Hirers, Ltd., will be nominated for membership of the C.M.U.A. Committee at the election in March, when other " new blood" may also come in.
That a gentleman who is prominent in the rubber-tire trade has a pair of bull terriers boasting the names of Fritz and Peter, and that this coincidenco has no reference to Polacks or Peter Unions—or to Houndsditch. That this journal's remarks anent the blocking-up of the front windows of motorbuses by advertisements, backboards, and drivers' mackintoshes have had their effect.
That it was jolly cold and damp, on the grand terrace at the Crystal Palace, last Saturday afternoon, when the C.M.T.T.A. sub-committeemen were being shown round.
That some motorvans abroad, where roads are very bad, have to be fitted with single tires, on the back wheels, in preference to twin tires, so that they may fit the tramrails.
That a taxi-driver who had been prosecuted by the police for a. trivial offence recently got his own back by reporting a discovery, and that one of the offending constables was sitting on an ace.
That Mr. Winston Churchill's " Gone-to-Dinner " labels for taxicabs are conspicuous by their absence, and that but few drivers are inconsiderate enough to take advantage of the same gentleman's permission to smoke when they have ladies on board.
That, if the L.G.O. Co. were to offer to run a good service of modern buses between Hendon and Golder's Green, where the trolley buses are expected, the Hendon U.D.C. would welcome the enterprise, and would readily assist it by first-class road maintenance.
hat at least two new tracturs will be shown at the Royal. at Norwich, in June, and that one of them, a steamer, will have springs 4 ft. long, whilst the designer of the other machine—one of the internal-combustion type—has been equally generous in the matter of springs.
That during an after-dinner speech on the occasion of a recent motorbus celebration, and at the close of a eulogy as to the quietness of the company's vehicles, through the open window there suddenly came the sound of a violent exhaustbox explosion from one of these very vehicles in the street below.
That the energetic chief of the transport department of one of London's great stores was, on Thursday night of last. week, seen to be dressing for his part as chief of the firm's fire brigade, whilst en route in a taxicab to an outbreak at a branch business, and that he wasn't Waring his helmet when he started.
That Mr. Edge's proposals for the taxation of horses are only shelved temporarily, and that they may burst out again in the shape of conditional exemption for horses which are adequately equipped to obviate the insanitary fouling of the precious streets upon which neither oil nor grease may be allowed to fall without howls from the horse brigade, which brigade is getting more and more nervous about its position. That the Editor has been blamed for a pronouncenteut, re ehain.driven vehicles, which he never made, but which appears to concern the pleasure-car section, and that " The Daily Telegraph," or whoever is primarily responsible, should really bc more careful in the matter of assigning authorship to parCollar extracts from the" Ency-clopiedia Britannica." * That one of the chief motorbus companies is considering the advisability of printing small descriptive booklets describing the principal buildings and places of interest passed on the main routes along which the vehicles travel.