Paris is a long way behind London in mechanical traction.
26th January 1911
Page 11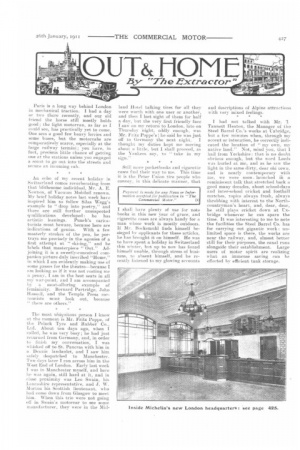 Page 11, 26th January 1911 —
Paris is a long way behind London in mechanical traction.
Close
Keywords :
I had a day or two there recently, and our old friend the horse still mostly holds good; the light motorvan, as -far as I could see, has practically yet to come. One sees a good few heavy lorries and some buses, but the motoreabs are comparatively scarce, especially at the large railway termini; you have, in fact, precious little chance of getting one at the stations unless you engaged a scout to go out into the streets and secure an incoming cab.
An echo of my recent holiday in Switzerland comes reverberating from that blithesome individual, Mr. A. E. Newton of Vacuum Mobiloil renown. My brief holiday notes last week have inspired him to follow Silas Wegg's example to "drop into poetry," and there are still further unsuspected qitalifications developed: he has artistic leanings. Punch's caricaturists must beware, because here are
indications of genius. With a few masterly strokes of the pen, he portrays me precisely in the agonies of a first attempt at " ski-ing,'' and lie labels that masterpiece " Out." Adjoining it is a sweetly-conceived companion picture duly inscribed "Home," in which I am evidently making use of some passes for the theatre—because I am looking its if it was not costing me a penny, I am in the best seats in all my war-paint, and I am accompanied hy a most-alluring example of femininity. Bernard Partridge, John Hassall, and the Temple Press cartoonists must look out, because " there are others."
The most ubiquitous person I knew at the moment is Mr. Fritz Poppe, of the Polack Tyre and Rubber Co., Ltd. About ten days ago, when I called, he was very busy; he had just returned from Germany, and, in order to finish my conversation, I was 'vhisked off to St. Pancras with him in it Dennis htnclatilet, and I saw him safely despatched to Manchester. Two days later I ran across him in the West End of London. Early last week I was in Manchester myself, and here lw was again, still hard at it, and in close proximity was Leo Swain, his Lancashire representative, and J. W. Murton his Scottish lieutenant, who had come down from Glasgow to meet him. When this trio were not going off in Swain's motorcar to see some manufacturer, they were in the Mid
land _Hotel talking tires for all they were worth with one user or another, and then I lost sight of them for half a day, but the very first friendly face
saw on my return to London, late on Thursday night, oddly enough, was Mr. Fritz Poppe's ; he said he was just off to Germany the next night. I thought my duties kept me moving about a little, but I shall proceed, as the Yankees say, to " take in my sign.' 7
Still more pocketbooks and cigarette cases find their way to me. This time it is the Peter Union tire people who convey, in this delicate manner, that I shall have plenty of use for note books in this new year of grace, and cigarette cases are always handy for a man whose work is mostly outdoors. If Mr. Bockemuhl finds himself besieged by applicants for these articles, he has brought it on himself. He was to have spent a holiday in Switzerland this winter, but up to now has found himself unable, through stress of business, to absent himself, and he recently listened to my glowing accounts and descriptions of Alpine attractions with very mixed feelings.
I had not talked with Mr. 1 Tannett Ffeaten, the Manager of the Steel Barrel Co.'s works at Uxbridge, but a few minutes when, through my accent or intonation, he correctly indicated the location of" my own. my native laud." Not, mind you, that 'L hail from Yorkshire: that is no doubt obvious enough, but the word Leeds was hurled at Me, and as lie saw the light in the same dirty, dear old town, and is nearly contemporary with me, we were soon, launched ih a reminiscent talk that stretched back a good many decades, about school-days and inter-school cricket and football matches, topics always fresh, always throbbing with interest to the Northcountryman's heart, and, dear, dear, he still plays cricket down at 'Uxbridge whenever he can spare the time. It was interesting to me to note the facilities the Steel Barrel Co. has for carrying out gigantic work: unlimited space is there the works are near the railway, and, almost better still for their purposes, the canal runs alongside their establishment. Large users of motor spirit are realizing what an immense saving can be effected by efficient tank storage.