insurance
26th February 1971
Page 52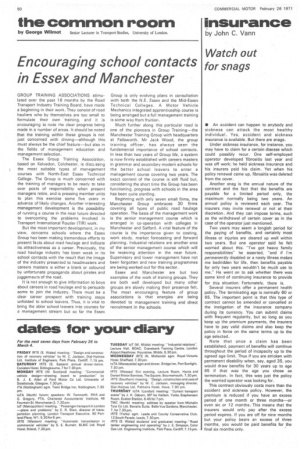 Page 52, 26th February 1971 —
insurance
Close
by John C. Vann
Watch out for snags
• Art accident can happen to anybody and sickness can attack the most healthy individual. Yes, accident and sickness insurance is available. But there are snags.
Under sickness insurance, for instance, you may have to claim for a certain disease which could possibly recur. One self-employed operator developed fibrositis last year and was off work; he held sickness insurance and his insurers paid his claim. Yet when his policy renewal came up, fibrositis was deleted from the cover.
Another snag is the annual nature of the contract and the fact that the benefits are payable for a limited period only, the maximum normally being two years. An annual policy is reviewed each year. The insurers may invite renewal or not at their discretion. And they can impose terms, such as the withdrawal of certain cover as in the case of the operator just mentioned.
Two years may seem a longish period for the paying of benefits, and certainly most illness or injuries are cleared up well within two years. But one operator said he felt worried about this. "I've got heavy family responsibilities" he asserted, "and if I'm permanently disabled or a nasty illness makes me bedridden 'for life, then benefits payable for only two years wouldn't be much use to me.He went on to ask whether there was some kind of continuing insurance to provide for this situation. Fortunately, there is.
Several insurers offer a permanent health policy. The terminating age is normally 60 or 65. The important point is that this type of contract cannot be amended or cancelled at the instigation of the insurance company during its currency. You can submit claims with frequent regularity, but so long as you keep up the premium payments, the insurers have to pay valid claims and also keep the policy in force on the same terms up to the age selected..
Note that once a claim has been established, payment of benefits will continue throughout the period of incapacity up to the agreed age limit. Thus if you are stricken with permanent disability when, say, aged 35, you would draw benefits for 30 years up to age 65 if that was the age you chose as termination. In fact, this was just the policy the worried operator was looking for.
This contract obviously costs more than the accident and sickness policy. However, the premium is reduced if you have an excess period of one month or three months—or even six or 12 months. This means that the insurers would only pay after the excess period expires. If you are off for nine months but your policy bears an excess of three months, you would be paid benefits for the final six months only.