Encouraging school contacts in Essex and Manchester
26th February 1971
Page 52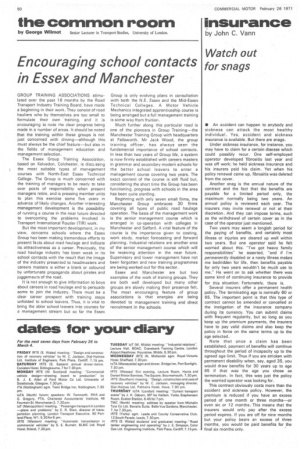 Page 52, 26th February 1971 —
Encouraging school contacts in Essex and Manchester
Close
GROUP TRAINING ASSOCIATIONS stimulated over the past 18 months by the Road Transport Industry Training Board, have made a beginning in their work. They consist of road hauliers who by themselves are too small to formulate their own training, and it is encouraging to note he clear progress being made in a number of areas. It should be noted that the training within these groups is not Just concerned with driving—although this must always be the chief feature—but also in the fields of management education and management selection.
The Essex Group Training Association, based on Kelvedon, Colchester, is disctssing the most suitable types of management courses with North-East Essex Technical College. The Group is much concerned with the training of managers to be ready to take over posts of responsibility when present managers retire, and is pressing member units to plan this exercise some five years in advance of likely changes. Another interesting management development is the possibility of running a course in the near future directed to overcoming the problems involved in Transport International Routier (TR) work.
But the most important development, in my view, concerns schools where the Essex Group has been making tremendous efforts to present facts about road haulage and indicate its" attractiveness as a career. Previously, the road haulage industry has been weak in its school contacts with the result that the image of the industry presented to headmasters and careers masters is either a blank Or coloured by unfortunate propaganda about pirates and juggernauts of the road.
It is not enough to give information to boys about careers in road haulage and to persuade some to join the industry. There must be a clear career prospect with training steps unfolded to school leavers. Thus, it is vital to bring the abler school leavers into courses for a management stream but so far the Essex Group is only evolving plans in consultation with both the N.E. Essex and the Mid-Essex Technical Colleges. A Motor Vehicle Mechanics integrated apprenticeship course is being arrahged but a full management training is some way from fruition.
Much further along this particular road is one of the pioneers in Group Training—the Manchester Training Group with headquarters at Failsworth. Mr Jack Wood, the group training officer, has always seen the fundamental importance of school contacts. In less than two years of Group life, a system is now firmly established with careers masters in grammar and secondary modern schools for the better school leavers to enter a management course covering two years. The exact content of the course is still fluid but, considering the short time the Group has been functioning, progress with schools in the area has been quite startling.
Beginning with only seven small firms, the Manchester Group embraces 30 firms covering all types of public road haulage operation. The basis of the management work is the senior management course which is arranged in co-operation with colleges in Manchester and Salford. A vital feature of the course is the importance given to costing, work study, market forecasting and forward planning. Industrial relations are another area of the senior management course which will be receiving attention in the near future. Supervisory and lower management have not been forgotten and new training programmes are being worked out for this sector.
Essex and Manchester are but two examples of the work of training groups. They are both well developed but many other groups are slowly making their presence felt. The most encouraging feature of group associations is that energies are being devoted to management training and direct recruitment in the schools.