and
26th February 1971
Page 49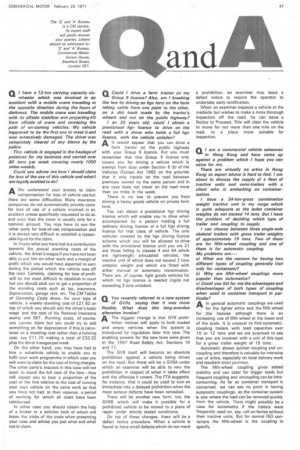 Page 49, 26th February 1971 —
and
Close
QI have a 12-ton carrying capacity six
wheeler which was involved in an accident with a mobile crane travelling in the opposite direction during the hours of .darkness. The mobile crane was travelling with its offside stabilizer arm projecting 4ft from offside of crane and sweeping the path of on-coming vehicles. My vehicle happened to be the first one to meet it and was extensively damaged. The driver was completely cleared of any blame by the police.
This vehicle is engaged in the haulage of potatoes for my business and carried over 80 tons per week covering nearly 1000 miles weekly.
Could you advise me how should claim for loss of the use of this vehicle and what! am legally entitled to do?
A WE understand your anxiety to claim
compensation for loss of vehicle use but there are some difficulties. Many insurance companies do not automatically provide cover for loss of use of a vehicle involved in an accident unless specifically requested to do so and even then the cover is usually only for a nominal amount. You may have to sue the other party for loss-of-use compensation and it is always very difficult to establish a reasonable figure for the claim.
In theory what you have lost is a contribution towards the annual standing costs of the vehicle, the driver's wages if you have not been able to put him on other work and a margin of profit which you would have expected to earn during the period which the vehicle was off the road. Certainly, claiming for loss of profit will be the most difficult to establish in court but you should stick out to get a proportion of the standing costs such as tax, insurance, depreciation, garage rent, etc. The CM Tables of Operating Costs show, for your type of vehicle, a weekly standing cost of £21.62 on top of which you should add the driver's basic wage and the cost of his National Insurance stamp and SET. Running costs, of course, you cannot claim but you could try to add something on for depreciation if this is calculated as a standing cost rather than a running cost, say E11.70 making a total of £33.32 plus the driver's wages per week.
On the other hand, you may have had to hire a substitute vehicle to enable you to fulfil your work programme in which case you will want to claim for the cost of hiring charges. The other party's insurers in this case will not want to stand the full cost of the hire—they will expect you to bear a proportion of the cost of the hire relative to the cost of running your own vehicle on the same work so that you have not had, at .their expense, a period of working for which all costs have been reimbursed.
In either case you should obtain the help of a broker or a solicitor both of whom will know the tricks of the trade when presenting your case and advise you just what and what not to claim. aCould I drive a farm tractor on my Group 9 licence? Also, am I breaking the law by driving an hgv lorry on the farm taking cattle from one point to the other, on a dirt track made by the tractor's wheels and not on the public highway? 1 an 20 years old; could I obtain a provisional hgv licence to drive on the road with a driver who holds a full hgv licence, with the vehicle unladen?
AIt would appear that you can drive a
farm tractor on the public highway with your Group 9 licence, But you must remember that this Group 9 licence only covers you for driving a vehicle which is exempt from duty under Section 6 (b) of the Vehicles (Excise) Act 1962 on the grounds that it only travels on the road between premises owned by the same person and in any case does not travel on the road more than six miles in the week.
There is no law to prevent you from driving a heavy goods vehicle on private farm land.
You can obtain a provisional hgv driving licence which will enable you to drive when accompanied by a person holding a full ordinary driving licence or a full hgv driving licence for that class of vehicle. The only vehicles covered by the hgv driving licence scheme which you will be allowed to drive with the provisional licence until you are 21 are those falling in classes 4 and 4A which are lightweight articulated vehicles, the tractive unit of which does not exceed 2 tons unladen weight and which are fitted with either manual or automatic transmission. There are, of course, light goods vehicles for which no hgv licence is needed irigids not exceeding 3 tons unladen).
QYou recently referred to a new system of GV9s, saying that it was more flexible. What does this long-overdue alteration involve? A The biggest change is that GV9 prohi
bition notices will apply to both loaded and empty vehicles when the system is introduced by regulation later this year, The enabling powers for the new laws were given in the 1967 Road Safety Act, Sections 16 and 17.
The GV9 itself will become an absolute prohibition against a vehicle being driven on the road. But there will be a GV9A under which an examiner will be able to vary the prohibition in respect of when it takes effeet and the offences it covers. The FTA suggests, for instance, that it could be used to turn an immediate into a delayed prohibition when the most serious defects have been remedied.
There will be another new form, too, the GV9B which will make it possible for a prohibited vehicle to be moved to a place of repair under strictly stated conditions.
On top of these changes, there will be a defect notice procedure. When a vehicle is found to have small defects which do not merit a prohibition, an examiner may issue a defect notice to require the operator to undertake early rectification.
When an examiner inspects a vehicle at the roadside but wishes to make a more thorough inspection off the road, he can issue a Notice to Proceed. This will clear the vehicle to move for not more than one mile on the road, to a place more suitable for inspection.
QI am a commercial vehicle salesman in Hong Kong and have come up against a problem which I hope you can solve for me.
There are virtually no artics in Hong Kong so expert advice is hard to find. 1 am about to discuss the supply of a fleet of tractive units and semi-trailers with a client who is embarking on containerization.
1 have a 24-ton-gross combination weight tractive unit in my range which is quite adequate as the laden container weights do not exceed 14 tons. But I have the problem of deciding which type of trailer and coupling to supply.
I can choose between three single-axle skeletal trailers with gross trailer weights of approximately 19 tons. Two of them• are for fifth-wheel coupling and one of them is for automatic coupling.
My problems are:—
a) What are the reasons for having two different types of coupling generally (not only for containers)?
Li) Why are fifth-wheel couplings more popular than automatics?
c) Could you list for me the advantages and disadvantages of both types of coupling when used in container transport in particular?
AIn general automatic couplings are used for the lighter artics and the fifth-wheel for the heavies although there is an increasing use of fifth-wheel at the lower end of the scale. It is unusual to find automaticcoupling trailers with load capacities over 10 or 12 tons and we are surprised to see that you are involved with a unit of this type for a gross trailer weight of 19 tons.
Automatic allows quicker coupling and uncoupling and therefore is valuable for intensive use of attics, especially on local delivery work and resultant short journeys.
The fifth-wheel coupling gives added stability and can cater for bigger loads but frequent coupling and uncoupling can be timeconsuming. As far as container transport is concerned, we can see no point in having automatic couplings, as the container system is one where the load can be removed quickly from the vehicle. There might possibly be a case for automatics if the trailers were frequently used on, say, roll-on ferries without their tractive units. But for normal ISO containers the fifth-wheel is the coupling to specify.