FLEET
26th February 1971
Page 38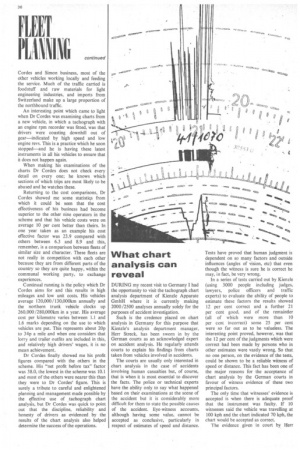 Page 38, 26th February 1971 —
FLEET
Close
PIANN continued
Cordes and Simon business, most of the other vehicles working locally and feeding the service. Much of the traffic carried is foodstuff and raw materials for light engineering industries, and imports from Switzerland make up a large proportion of the northbound traffic.
An interesting point which came to light when Dr Cordes was examining charts from a new vehicle, in which a tachograph with an engine rpm recorder was fitted, was that drivers were coasting downhill out of gear—indicated by high speed and low engine revs. This is a practice which he soon stopped—and he is having these latest instruments in all his vehicles to ensure that it does not happen again.
When making his examinations of the charts Dr Cordes does not check every detail on every one; he knows which sections of which trips are most likely to be abused and he watches these.
Returning to the cost comparisons, Dr Cordes showed me some statistics from which it could be seen that the cost effectiveness of his business had become superior to the other nine operators in the scheme and that his vehicle costs were on average 10 per cent better than theirs. In one year taken as an example his cost effective factor was 23.9 compared with others between 6.3 and 8.9 and this, remember, is a comparison between fleets of similar size and character. These fleets are not really in competition with each other because they are from different parts of the country so they are quite happy, within the communal working party, to exchange experiences.
Continual running is the policy which Dr Cordes aims for and this results in high mileages and low unit costs. His vehicles average 120,000/130,000km annually and the northern trunk vehicle clocks up 260,000 /280,000km in a year. His average cost per kilometre varies between 1.1 and 1.6 marks depending on the use to which vehicles are put. This represents about 20p to 34p a mile and when one considers that lorry and trailer outfits are included in this, and relatively high drivers' wages, it is no mean achievement.
Dr Cordes finally showed me his profit figures compared with the others in the scheme. His "net profit before tax" factor was 38.0, the lowest in the scheme was 10.1 and most of the others were nearer this than they were to Dr Cordes' figure. This is surely a tribute to careful and enlightened planning and management made possible by the effective use of tachograph chart analyis, but Dr Cordes was quick to point Out that the discipline, reliability and honesty of drivers as evidenced by the results of the chart analysis also helped determine the success of the operations.