road and workshop
26th February 1971
Page 35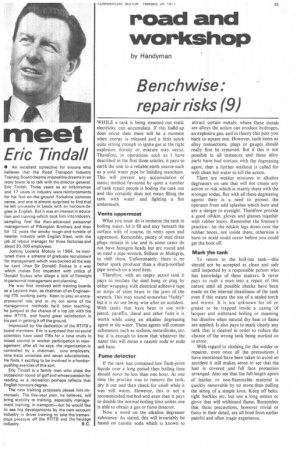 Page 35, 26th February 1971 —
road and workshop
Close
by Handyman
Benchwise: repair risks (9)
WHILE a tank is being steamed out static electricity can accumulate. If this build-up does occur then there will be a moment when energy is released and a little spark quite strong enough to ignite gas at the right explosion density or mixture may occur. Therefore, in operations such as I have described in the first three articles, it pays to earth the unit to a reliable earth source such as a cold water pipe 'or building stanchion. This will prevent any accumulation of static; method favoured by quite a number of tank repair people is boiling the tank out and this certainly does not mean filling the tank with water and lighting a fire underneath, Vents uppermost
What you must do is imiterse the tank in boiling water, let it fill and stay beneath the surface with of course, its vents open and uppermost. Remember, plenty of steel drain plugs remain in use and in some eases do not have hexagon heads but are round and so need a pipe wrench, Stillson or Molegrip, to shift them, Unfortunately. there is no better spark producer than a sharp-toothed pipe wrench on a steel item.
Therefore, with an empty petrol tank it pays to insulate the steel bung or plug by either wrapping with electrical adhesive tape or strips of shim brass in the jaws of the wrench. This may sound somewhat "faddy" but it is no use being wise after an accident. With tanks that have been in use with , petrol, paraffin, diesel and other fuels it is worth while using an alkaline degreasing agent in the water. These agents will contain substances such as sodium, metasilicate, etc, but it is enough to know that whatever the name this will mean a caustic soda or soda ash base.
Fume detector If the tank has contained low flash-point liquids over a long period then boiling time should never be less than one hour. At one time the practice was to remove the tank, dry it out and then cheek for smell while it was still warm. However, this is not a recommended method and even then it pays to double the normal boiling time unless one is able to obtain a gas or fume detector.
Now a word on the alkaline degreaser substance. As stated, this will invariably be based on caustic soda which is known to attract certain metals; where these metals are alloys the action can produce hydrogen, an explosive gas, and in theory this puts you back to square one. However, such items as alloy connections, plugs or gauges should really first be removed. But if this is not possible in all instances and these alloy parts have had contact with the degreasing agent, then a further washout is called for with clean hot water to kilt the action.
There are weaker mixtures in alkaline degreasers on sale that will not create any action or risk which is mainly there with the stronger sodas. But with all these degreasing agents there is a need to protect the operator from odd splashes which burn and are a danger to eyesight. Therefore provide a good oilskin, gloves and glasses together with rubber boots. Remember the firemen's practice—let the oilskin legs down over the rubber boots, not inside them, otherwise a burn or scald could occur before you could get the boot off.
Mark the tank To return to the boil-out tank—this should not be accepted as clean and safe until inspected by a responsible person who has knowledge of these matters. It never pays to rush a man into a repair of this nature until all possible checks have been made on the internal cleanliness of the tank even if this means the use of a sealed torch and mirror. It is not unknown for oil or grease to be trapped inside a casing of lacquer and withstand boiling or steaming but dissolve when natural dry heat or flame are applied. It also pays to mark clearly any tank that is cleaned in order to reduce the chance of the wrong tank being worked on in error.
With regard to clothing for the welder or repairer, even once all the precautions I have mentioned have been taken to avoid an accident it still makes sense to see that the hair is covered and full face protection arranged. Also see that the full-length apron of leather or non-flammable material is quickly removable by no more than pulling the string of a simple knot. Keep off belts, tight buckles etc, but use a long mitten or glove that will withstand flame. Remember that these precautions, however trivial or fussy in their detail, are all bred from earlier painful and often tragic experience.