meet
26th February 1971
Page 35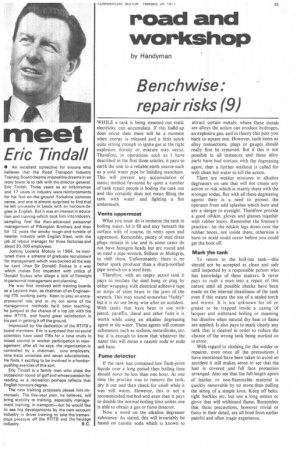 Page 35, 26th February 1971 —
meet
Close
Eric Tindall
• An excellent corrective for anyone who believes that the Road Transport Industry Training Board dreams impossible dreams in an ivory tower is to talk with the director-general, Eric Tindall, Three years as an infantryman and 17 years in industry were reinforcements for his feet-on-the-ground Yorkshire common sense, and one is almost surprised to find that he left university in Leeds with an honours degree in English. But it was an interest in education and training which took him into industry, sampling first the then-advanced personnel management of Pilkington Brothers and then for 12 years the smoky rough-and-tumble of heavier industry with English Steel, with the job of labour manager for three factories and about 30, 000 employees.
Joining Leyland Motors in 1964, he instituted there a scheme of graduate recruitment for management which was backed all the way by Lord (then Sir Donald) Stokes in a way which makes Eric impatient with critics of Donald Stokes who allege a lack of foresight in personnel management and planning.
He was first involved with training boards as a Leyland man, as chairman of an Engineering ITB working party. Keen to play an entrepreneurial role and to try out some of the management methods he'd been teaching, he jumped at the chance of a top job with the new RTITB, and found great satisfaction in his part in getting it off the ground.
Impressed by the dedication of the RTITB's boa rd members, Eric is surprised that no social scientists have used ITBs for a case study in mixed control or worker participation in management; after all, he says, the organization is controlled by a chairman, nine employers, nine trade unionists and seven educationists. He finds it exciting to be involved in a frontierpushing exercise of this sort.
Eric Tindall is a family man who plays the occasional round of golf and whose passion for reading as a recreation perhaps reflects that English honours degree.
The new training proposals please him immensely. The five-year ,plan, he believes, will bring stability to training, especially management training, in transport—but he would like to see big developments by the own-account industry in driver training to take the tremendous pressure off the RTITB and the haulage industry. B.C.