bird's eye view by the Hawk
26th February 1971
Page 34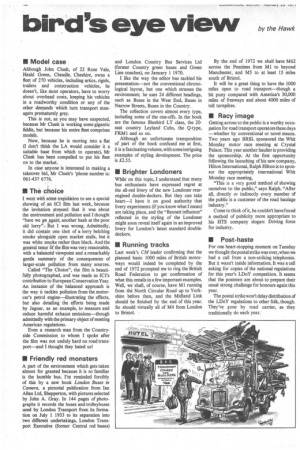 Page 34, 26th February 1971 —
bird's eye view by the Hawk
Close
II Model case
Although John Clueit, of 22 Rose Vale, Heald Green, Cheadle, Cheshire, owns a fleet of 270 vehicles, including artics, rigids, trailers and construction vehicles, he doesn't, like Most operators, have to worry about overhead costs, keeping his vehicles in a roadworthy .condition or any of the other demands which turn transport managers prematurely grey.
This is not, as you may have suspected, because Mr Cluck is working some gigantic fiddle, but because his entire fleet comprises models.
Now, because he is moving into a flat (I don't think the LA would consider it a suitable base from which to operate), Mr atieit has been compelled to put his fleet on to the market.
In case anyone is interested in making a takeover bid, Mr Clueit's 'phone number is: 061-43.7 6776.
• The choice
I went with sdine trepidation to see a special showing of an ICI film last week, because the invitation stressed that it was about the environment and pollution and I thought "here we go :again; another bash at the poor old lorry'", But I was wrong. Admittedly, it. did contain one shot of a lorry belching smoke alongside open market stalls, but it was white smoke rather than black. Andthe general tenor of the fen was very reasonable, with a balanced viewpoint and a remarkably gentle summaryof the consequences of larger-scale pollution from many sources.
Called "The Choice", the film is beautifully photographed, and was made as ICI's contribution to European Conservation Year. An instance of the balanced approach is the way it tackles pollution from the motorcar's petrol engine—illustrating the effects, but also detailing the efforts being made by. Jaguar, as an example, to measure and reduce harmful exhaust emissions though admittedly with the primary object of meeting American regulations.
Even a research man from the Countryside Commission to whom I spoke after the film was not unduly hard on road transport—and I thought they hated us!
• Friendly red monsters
A part of the environment which gets taken almost for granted because it is so familiar is the humble bus. I'm reminded forcibly of this by a new hook Landon Buses in Camera, a pictorial publication from Ian Allan Ltd, Shepperton, with pictures selected by John A. Gray. In 144 pages of photographs it records the buses and trolleybuses used by London Transport from its formation on July 1 1933 to its separation into two different undertakings, London Transport Executive (former Central red buses) and London Country Bus Services Ltd (former Country green buses and Green Line coaches), on January 11970.
I like the way the editor has tackled his presentation—not the conventional chronological layout, but one which stresses the environment; he uses 24 different headings, such as Buses in the West End, Buses in Narrow Streets, Buses in the Country.
The collection covers almost every type, including some of the one-offs. In the book are the famous Bluebird LT class, the 20seat country Leyland Cubs, the Q-type, FRM1 and so on.
Although an unfortunate transposition of part of the book confused me at first, it is a fascinating volume, with some intriguing examples of styling development. The price is £2.55.
• Brighter Londoners
While on this topic, I understand that many bus enthusiasts have expressed regret at the all-red livery of the new Londoner rearengined double-deckers. But they can take heart—I have it on good authority that livery experiments (if you know what I mean) are taking place, and the "Bennett influence" reflected in the styling of the Londoner might soon reveal itself again in an improved livery for London's latest standard doubledeckers.
II Running tracks
Last week's CM leader confirming that the planned basic 1000 miles of British motorways would indeed be completed by the end of 1972 prompted me to ring the British Road Federation to get confirmation of what this entails in a few important examples. Well, we shall, of course, have MI running from the North Circular Road up to Yorkshire before then, and the Midland Link should be finished by the end of this year. So should virtually all of M4 from London to Bristol. By the end of 1972 we shall have M62 across the Pennines from M1 to beyond Manchester, and M5 to at least 15 miles south of Bristol.
It will be a great thing to have the 1000 miles open to road transport—though a bit puny compared with America's 30,000 miles of freeways and about 4000 miles of toll turnpikes.
III Racy image
Getting across to the public is a worthy occupation for road transport operators these days —whether by conventional or novel means. Two years ago BRSL sponsored the Whit Monday motor race meeting at Crystal Palace. This year another haulier is providing the sponsorship. At the first opportunity following the launching of his new company, Hilton International, Ralph Hilton is to sponsor the appropriately international Whit Monday race meeting.
"This is a very good method of showing ourselves to the public," says Ralph. "After all, directly or indirectly every member of the public is a customer of the road haulage industry."
Come to think of it, he couldn't have found a method of publicity more appropriate to his HT'S company slogan: Driving force for industry.
NI Post-haste
For one heart-stopping moment on Tuesday we thought the postal strike was over, when we had a call from a non-striking telephonist. But it wasn't inside information. It was a call asking for copies of the national regulations for this year's LDoY competition. It seems that the postmen are about to prepare their usual strong challenge for honours again this year.
The postal strike won't delay distribution of the LDoY regulations to other folk, though. They've gone by road carrier, as they traditionally do each year.