Test bed for prototype engines
26th February 1971
Page 33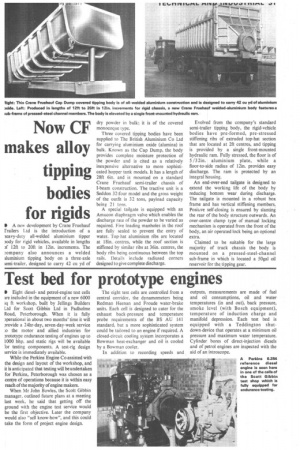 Page 33, 26th February 1971 —
Test bed for prototype engines
Close
D Eight dieseland petrol-engine test cells tre included in the equipment of a new 6000 3q ft workshop, built by Jellings Builders Ltd for Scott Gibbin Ltd in Padholme Road, Peterborough. When it is fully operational in about two months' time it will orovide a 24hr-day, seven-day-week service :0 the motor and allied industries for Drototype endurance testing of engines up to 1000 bhp, and static rigs will be available or testing components. A test-rig design ;ervice is immediately available.
While the Perkins Engine Co assisted with the design and layout of the workshop, and it is anticipated that testing will be undertaken for Perkins, Peterborough was chosen as a centre of operations because it is within easy reach.of the majority of engine makers.
When Mr John Bowles, the Scott Gibbin manager, outlined future plans at a meeting last week, he said that getting off the ground with the engine test service would be the first objective. Later the company would also "sell know-how", and this could take the form of project engine design. The eight test cells are controlled from a central corridor, the dynamometers being Redman Heenan and Fronde water-brake units. Each cell is designed to cater for the exhaust back-pressure and temperature probe requirements of the BS AU 141 standard, but a more sophisticated system could be tailored to an engine if required. A closed-circuit cooling system incorporates a Bowman heat-exchanger and oil is cooled by a Bowman cooler.
In addition to recording speeds and outputs, measurements are made of fuel and oil consumptions, oil and water temperatures (in and out), back pressure, smoke level (with Bosch equipment), temperature of induction charge and manifold depression. Each test bed is equipped with a Teddington shutdown-device that operates at a minimum oil pressure and maximum water temperature. Cylinder bores of direct-injection diesels and of petrol engines are inspected with the aid of an introscope.