LA rules on firm's 'sleeping interest'
26th February 1971
Page 31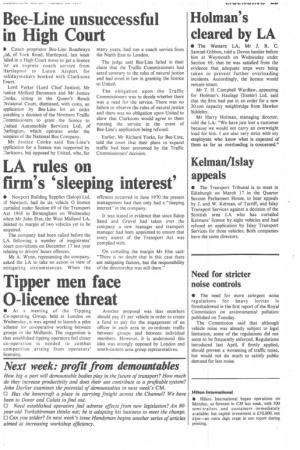 Page 31, 26th February 1971 —
LA rules on firm's 'sleeping interest'
Close
• Newport Building Supplies (Salop) Ltd, af Newport, had its six vehicle 0 licence curtailed under Section 69 of the Transport Act 1968 in Birmingham on Wednesday when Mr John Else, the West Midland LA, deleted its margin of two vehicles yet to be acquired.
The company had been called before the LA following a number of magistrates' court convictions on December 17 last year relating to drivers' hours offences.
Mr A. Wynn, representing the company, asked the LA to take no action in view of mitigating circumstances. When the
offences occurred in June 1970 the present management had then only had a "sleeping interestin the company.
It was stated in evidence that since Salop Sand and Gravel had taken over the company a new manager and transport manager had been appointed to ensure that every aspect of the Transport Act was complied with.
On curtailing the margin Mr Else said: "There is no doubt that in this case there are mitigating factors, but the responsibility of the directorship was still there."