Bee-Line unsuccessful in High Court
26th February 1971
Page 31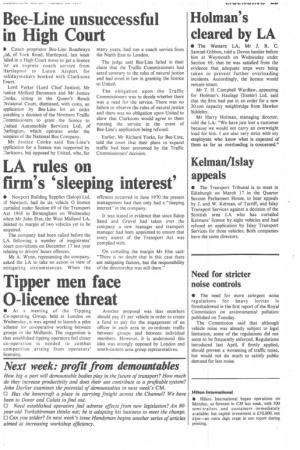 Page 31, 26th February 1971 —
Bee-Line unsuccessful in High Court
Close
▪ Coach proprietor Bee-Line Roadways ..td, of York Road, Hartlepool, last week 'ailed in a High Court move to get a licence or an express coach service from Aartlepool to Luton Airport for iolidaymakers booked with Clarksons fours.
Lord Parker (Lord Chief Justice), Mr lustice Melford Stevenson and Mr Justice 7.00ke, sitting in the Queen's Bench Divisional Court, dismissed, with costs, an mplication by Bee-Line for an order luashing a decision of the Northern Traffic -2ommissioners to grant the licence to jnited Automobile Services Ltd, of Darlington, which operates under the tuspices of the National Bus Company.
Mr Justice Cooke said Bee-Line's mplication for a licence was supported by 211arksons, but opposed by United, who, for many years, had run a coach service from the Noith East to London.
The judge said Bee-Line failed in their claim that the Traffic Commissioners had acted contrary to the rules of natural justice and had erred in law in granting the licence to United.
The obligation upon the Traffic Commissioners was to decide whether there was a need for the service. There was no failure to observe the rules of natural justice and there was no obligation upon United to show that Clarksons would agree to them running the service in the event of Bee-Line's application being refused.
Earlier, Mr Richard Yorke, for Bee-Line, told the court that their plans to expand traffic had been prevented by the Traffic Commissioners' decision.