Russell of Bathgate reduced by 9 vehicles and 14 trailers
26th February 1971
Page 28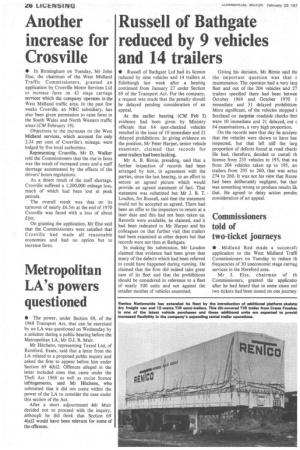 Page 28, 26th February 1971 —
Russell of Bathgate reduced by 9 vehicles and 14 trailers
Close
• Russell of Bathgate Ltd had its licence reduced by nine vehicles and 14 trailers at Edinburgh last week after a hearing continued from January 27 under Section 69 of the Transport Act. For the company, a request was made that the penalty should be delayed pending consideration of an appeal.
At the earlier hearing (CM Feb 5) evidence had been given by Ministry officials that 64 spot-checked vehicles resulted in the issue of 10 immediate and 21 delayed prohibitions. In giving evidence on the position, Mr Peter Harper, senior vehicle examiner, claimed that records for semi-trailers had been lacking.
Mr A. B. Birnie, presiding, said that a further inspection of records had been arranged by him, in agreement with the parties, since the last hearing, in an effort to secure an agreed picture which would provide an agreed statement of fact. That statement was submitted but Mr J. B. T. Loudon, for Russell, said that the statement could not be accepted as agreed. There had been an offer to the inspectors to return at a later date and this had not been taken up. Records were available, he claimed, and it had been indicated to Mr Harper and his colleagues on that further visit that trailers had been examined at other depots but that records were not then at Bathgate.
In making his submission, Mr. Loudon claimed that evidence had been given that many of the defects which had been referred to could have happened during running. He claimed that the firm did indeed take great care of its fleet and that the prohibitions should be considered in reference to a fleet of. nearly 500 units and not against the smaller number of vehicles examined.
Giving his decision, Mr Birnie said thu the important question was that c maintenance. The operator had a very larg fleet and out of the 204 vehicles and 27 trailers specified there had been betwee October 1969 and October 1970 1 immediate and 31 delayed prohibition; More significant, of the vehicles stopped i Scotland on surprise roadside checks ther were 10 immediate and 21 delayed, out c 64 examinations, a very high proportion.
On the records seen that day he accepte that the vehicles were shown to have bee inspected, but that left still the larg proportion of defects found at road check He had, therefore, decided to curtail th licence from 235 vehicles to 195, that wa from 204 vehicles taken up to 195, an trailers from 295 to 260, that was actut 274 to 260. It was not his view that Russe had been deliberately negligent, but ther was something wrong to produce results lik that. He agreed to delay action pendin: consideration of an appeal.