Another increase for Crosville
26th February 1971
Page 28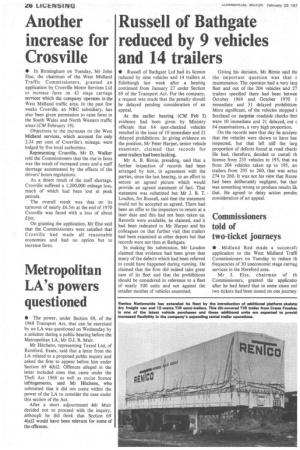 Page 28, 26th February 1971 —
Another increase for Crosville
Close
• In Birmingham on Tuesday, Mr John Else, the chairman of the West Midland Traffic Commissioners, granted an application by Crosville Motor Services Ltd to increase fares on 42 stage carriage services which the company operates in the West Midland traffic area. In the past few weeks Crosville, an NBC subsidiary, has also been given permission to raise fares in the South Wales and North Western traffic areas (CM February 19).
Objections to the increases on the West Midland services, which account for only 2.24 per cent of Crosville's mileage, were lodged by five local authorities.
Representing Crosville, Mr D. Walker told the Commissioners that the rise in fares was the result of increased costs and a staff shortage accentuated by the effects of the drivers' hours regulations.
As a direct result of the staff shortage. Crosville suffered a 1,200,000 mileage loss, much of which had been lost at peak periods.
The overall result was that on its turnover of nearly £.6.5m at the end of 1970 Crosville was faced With a loss of about On granting the application, Mr Else said that the Commissioners were satisfied that Crosville had made all reasonable economies and had no option but to increase fares.