Symposium on rapid transport vehicles
26th February 1971
Page 27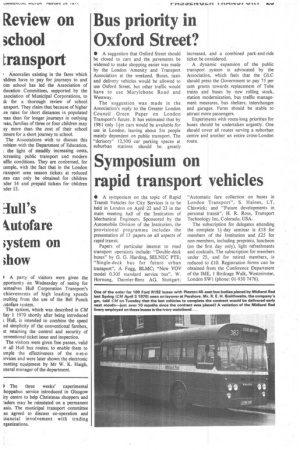 Page 27, 26th February 1971 —
Symposium on rapid transport vehicles
Close
• A symposium on the topic of Rapid Transit Vehicles for City Services is to be held in London on April 22 and 23 in the main meeting hall of the Institution or Mechanical Engineers. Sponsored by the Automobile Division of the Institution, the provisional programme includes the presentation of 13 papers on all aspects of rapid transit.
Papers of particular interest to road transport operators include: "Double-deck buses" by G. G. Harding, SELNEC PTE: "Single-deck bus for future urban transport", A Fogg, BLMC; "New VOV model 0.305 standard service bus", W. Hornung, Daimler-Benz AG, Stuttgart: "Automatic fare collection on buses in London Transport", S. Haines, LT, Chiswick; and "Future developments in personal transit", H. R. Ross, Transport Technology Inc, Colorado, USA.
The subscription for delegates attending the complete if day seminar is £18 for members of the Institution and £25 for non-members, including preprints, luncheon (on the first day only), light •refreshments and cocktails. The subscription for members under 25, and for retired members, is reduced to £10. Registration forms can be obtained from the Conference Department of the IME, 1 Birdcage Walk, Westminster, London SW1 (phone: 01-930 7476).