kutofare ;ystem on ;how
26th February 1971
Page 27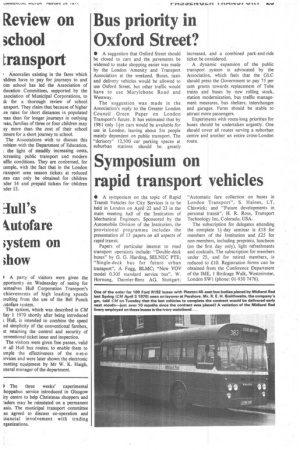 Page 27, 26th February 1971 —
kutofare ;ystem on ;how
Close
I• A party of visitors were given the pportunity on Wednesday of seeing for lemselves Hull Corporation Transport's chievements of high loading speeds !suiting from the use of the Bell Punch kutofare system.
The system, which was described in CM lay 1 1970 shortly after being introduced Hull, is intended to combine the speed rid simplicity of the conventional farebox, et retaining the control and security of onventional ticket issue and inspection.
The visitors were given free passes, valid m. all Hull bus routes, to enable them to ample the effectiveness of the o-m-o !.rvices and were later shown the electronic Dunting equipment by Mr W. K. Haigh, eneral manager of the department.
The three weeks' experimental hoppabus service introduced in Glasgow ity centre to help Christmas shoppers and raders may be reinstated on a permanent .asis. The municipal transport committee as agreed to discuss co-operation and ina neial involvement with trading rganizations.