Bus priority in Oxford Street?
26th February 1971
Page 27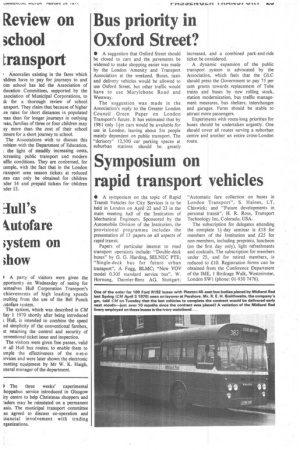 Page 27, 26th February 1971 —
Bus priority in Oxford Street?
Close
• A suggestion that Oxford Street should be closed to cars and the pavements be widened to make shopping easier was made by the London Amenity and Transport Association at the weekend. Buses, taxis and delivery vehicles would be allowed to use Oxford Street, but other traffic would have to use Marylebone Road and Westway.
The suggestion was made in the Association's reply to the Greater London Council Green Paper on London Transport's future. It has estimated that by 1981 only cars would be available for use in London, leaving about 5m people mainly dependent on public transport. The "derisory" 12,500 car parking spaces at suburb an stations should be greatly increased, and a combined park-and-ride ticket be considered.
• A dynamic expansion of the public transport ,system is advocated by the Association, which feels that the GLC should press the Government to pay 75 per cent grants towards replacement of Tube trains and buses by new rolling stock, station modernization, bus traffic management measures, bus shelters, interchanges and garages. Fares should be stable to attract more passengers.
Experiments with route-long priorities for buses should be undertaken urgently. One should cover all routes serving a suburban centre and another an entire cross-London route.