Crane Western will lease' you a trailer
26th February 1971
Page 25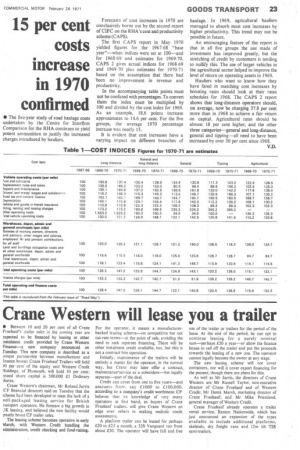 Page 25, 26th February 1971 —
Crane Western will lease' you a trailer
Close
• Between 10 and 20 per cent of all Crane Fruehauf's trailer sales in the coming year are axpected to be financed by leasing or other instalment credit provided by Crane Western Finance-a new company announced on Tuesday. This new • company is described as a unique partnership between manufacturer and inance house: Crane Fruehauf Trailers will hold )0 per cent of the equity and Western Credit Holdings, of Plymouth, will hold 10 per cent;
ssued share capital is 500,000 Ordinary ;hares.
Crane Western's chairman, Mr Roland Jarvis "CF financial director) said on Tuesday that the ;cheme had been developed to meet the lack of a well-packaged leasing service for British ransport operators. He foresaw a big growth in "..JK leasing, and believed the new facility would veatly boost CF trailer sales.
The leasing scheme becomes operative in early V1 arch, with Western Credit handling the administration, credit checking and fund-raising.
For the operator, it means a manufacturer' backed leasing scheme-on competitive but not Cut-rate terms-at the point of sale, avoiding the need to seek separate financing. There will be other instalment credit available, too, but this is not a contract hire operation.
Initially, maintenance of the trailers will be entirely a matter for the operator, in the normal way, but Crane may later offer a contract, maintenance'service as a coincident-but legally separate-part of the deal.
Credit can cover from one to five years-and amounts from, say £1000 to £100,000, according to a company's credit worthiness: CF believes that its knowledge of very many operators at first hand, as buyers of Crane Fruehauf trailers, will give Crane Western an edge over others in making realistic credit assessments, A platform trailer can be leased for perhaps £20 to £25 a month, a 32ft Vanguard van from about £30. The operator will have full and free use of the trailer or trailers for the period of the lease. At the end of the period, he can opt to continue leasing for a purely nominal sum-perhaps £20 a year-or allow the finance house to sell off the trailer and put the proceeds towards the leasing of a new one. The operator cannot legally become the owner at any stage.
The new 'leasing scheme will not cover containers i nor will it cover export financing for the present, though there are plans for this.
As well as Mr Jarvis, the directors of Crane Western are Mr Russell Taylor, non-executive director of Crane Fruehauf and of Western Credit; Mr Derek Marsh, marketing director of Crane Fruehauf; and Mr Mike Priestland, general manager of Western Credit.
Crane Fruehauf already operates a trailer rental service, Rentco Nationwide, which has just announced an expansion of the types available jto include additional platforms, skeletals, dry freight vans and 12m tilt TIR semi-trailers.