15 per cent costs increase in 1970 confirmed
26th February 1971
Page 25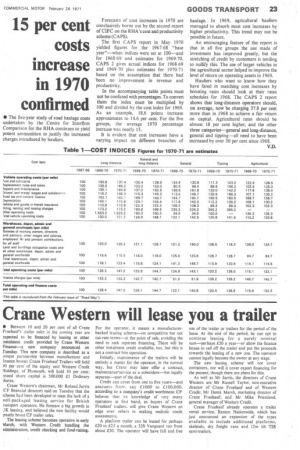 Page 25, 26th February 1971 —
15 per cent costs increase in 1970 confirmed
Close
• The five-year study of road haulage costs undertaken by the Centre for Interfirm Comparison for the RHA continues to yield potent ammunition to justify the increased charges introduced by hauliers.
Forecasts of cost increases in 1970 are conclusively borne out by the second report of CIFC on the RHA's cost and productivity scheme (CAPS).
The first CAPS report in May 1970 yielded figures for the 1967-68 "base year-when indices were set at 100-and for 1968-69 and estimates for 1969-70. CAPS 2 gives actual indices for 1968-69 and 1969-70 plus estimates for 1970-71 based on the assumption that there had been no improvement in revenue and productivity.
In the accompanying table points must • not be confused with percentages. To convert them the index must be multiplied by 100 and divided by the cost index for 1969. As an example, 18.6 points increase approximates to 14.6 per cent. For the five groups, the average 1970 percentage increase was nearly 15.
It is evident that cost increases have a varying impact on different branches of haulage. In 1969, agricultural hauliers managed to absorb most cost increases by higher productivity. This trend may not be possible in future.
An eticouraging feature of the report is that in all five groups the use made of investment has improved greatly, but the stretching of credit by customers is tending to nullify this. The use of lacger vehicles in the agricultural sector helped to improve the level of r urn on operating assets in 1969.
Haul' s who want to know how they have far d in matching cost increases by boosting rates should look at their rates schedule for 1968. The CAPS 2 report shows at long-distance operators should, on aver e, now be charging 37.8 per cent more th in 1968 to achieve a fair return on capit Agricultural rates should be almost 1 per cent higher, and the other three cat gories-general and long-distance, general d tipping-all need to have been increas by over 30 per cent since 1968.