Palletized furniture storage system
26th February 1971
Page 24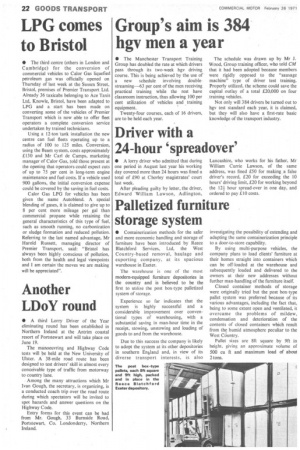 Page 24, 26th February 1971 —
Palletized furniture storage system
Close
• Containerization methods for the safer and more economic handling and storage of furniture have been introduced by Reece Blatchford Services, Ltd, the West Country-based removal, haulage and exporting company, at its spacious warehouse in Exeter.
The warehouse is one of the most modern-equipped furniture depositories in the country and is believed to be the first to utilize the post box-type palletized system of storage.
Experience so far indicates that the system is highly successful and a considerable improvement over conventional types of warehousing, with a substantial saving in man-hour time in the receipt, stowing, unstowing and loading of goods to and from the warehouse.
Due to this success the company is likely to adopt the system at its other depositories in southern England and, in view of its diverse transport interests, is also investigating the possibility of extending and adapting the same containerization principle to a door-to-store capability.
By using multi-purpose vehicles, the company plans to load clients' furniture at their homes straight into containers which can be off-loaded at the warehouse and subsequently loaded and delivered to the owners at their new addresses without further man-handling of the furniture itself.
Closed container methods of storage were originally tried but the post box-type pallet system was preferred because of its various advantages, including the fact that, being to some extent open and ventilated, it overcame the problems of mildew, condensation and deterioration of the contents of closed containers which result from the humid atmosphere peculiar to the West Country.
Pallet sizes are 8ft square by 9ft in height, giving an approximate volume of 500 cu ft and maximum load of about 2 tons.