LPG comes to Bristol
26th February 1971
Page 24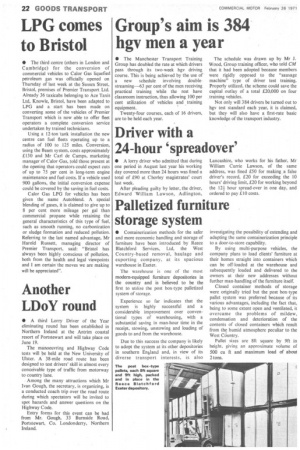 Page 24, 26th February 1971 —
LPG comes to Bristol
Close
• The third centre (others in London and Cambridge) for the conversion of commercial vehicles to Calor Gas liquefied petroleum gas was officially opened on Thursday of last week at the Sussex Street, Bristol, premises of Premier Transport Ltd. Already 36 taxicabs belonging to Ace Taxis Ltd, Knowle, Bristol, have been adapted to LPG and a start has been made on converting some of the vehicles of Premier Transport which is now able to offer fleet operators a complete conversion service undertaken by trained technicians.
Using a 12-ton -tank installation the new centre can fuel fleets operating up to a radius of 100 to 125 miles. Conversion, using the Beam system, costs approximately £130 and Mr Carl de Camps, marketing manager of Calor Gas, told those present at the opening that operators could expect cuts of up to 75 per cent in long-term engine maintenance and fuel costs. If a vehicle used 900 gallons, the initial conversion expense could be covered by the saving in fuel costs.
Calor Gas LPG for vehicles has been given the name Autoblend. A special blending of gases, it is claimed to give up to 8 per cent more mileage per gal than commercial propane while retaining the general characteristics of this type of fuel, such as smooth running, no carbonization or sludge formation and reduced pollution. Referring to the last named advantage, Mr Harold Russett, managing director of Premier Transport, said: "Bristol has always been highly conscious of pollution, both from the health and legal viewpoints and I am certain the moves we are making will be appreciated".