Six bulk tankers feed silos ' in new powder-handling system
26th February 1971
Page 23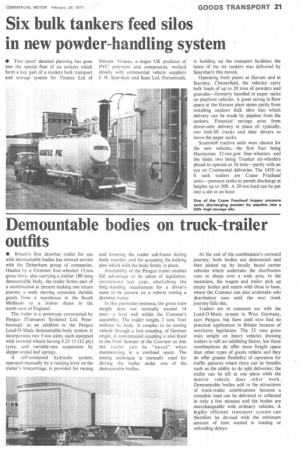 Page 23, 26th February 1971 —
Six bulk tankers feed silos ' in new powder-handling system
Close
• Two years' detailed planning has gone into the special fleet of six tankers which form a key part of a modern bulk transport and storage system for Vinatex Ltd of Havant. Vinatex, a major UK producer of PVC polymers and compounds, worked closely with commercial vehicle suppliers J. H. Sparshatt and Sons Ltd, Portsmouth; in building up the transport facilities; the latest of the six tankers was delivered by Sparshatt's this month.
Opeiating from plants at Havant and at StaveleY, Chesterfield, the vehicles carry bulk loads of up to 20 tons of powders and granulOs—formerly handled in paper sacks on pla orm vehicles. A great saving in floor space t the Havant plant stems partly from ingtalli g outdoor bulk silos into which deliver can be made by pipeline from the tanker Financial savings arise from driver nly delivery in place of, typically, two f. k-lift trucks and their drivers to move t e paper sacks.
Sea mell tractive units were chosen for the n w vehicles, the first four being Handy an 32-ton-gcw four-wheelers and the la St two being Trunker six-wheelers plated o operate at 36 tons—partly with an eye on Continental deliveries. The 1450 cu ft tank trailers are Crane Fruehauf units—pressure tanks to permit discharge at heights up to 50ft. A 20-ton load can be put into a silo in an hour.