Retrained Class 3 men could ease driver famine
26th February 1971
Page 22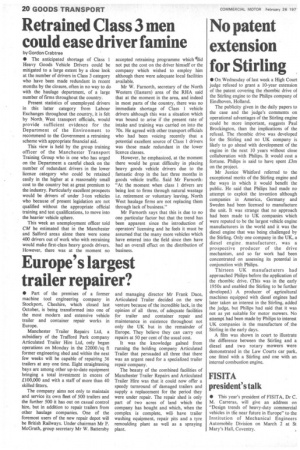 Page 22, 26th February 1971 —
Retrained Class 3 men could ease driver famine
Close
by Gordon Crabtree • The anticipated shortage of Class 1 Heavy Goods Vehicle Drivers could be mitigated to a large extent by a close look at the number of drivers in Class 3 category who have been made redundant in recent months by the closure, often in no way to do with the haulage department, of a large number of firms throughout the country.
Present statistics of unemployed drivers in this latter category from Labour Exchanges throughout the country, it is felt by North_ West transport officials, would provide sufficient evidence for the Department of the Environment to recommend to the Government a retraining scheme with appropriate financial aid..
This view is held by the group training officer of the Manchester Transport Training Group who is one who has urged on the Department a careful check on the number of redundant drivers in the lower licence category who could be retained easily in the higher at a reasonably small cost to the country but at great premium to the industry. Particularly excellent prospects would be drivers of under 3-ton vehicles who because of present legislation are not qualified without the appropriate official training and test qualifications, to move into the heavier vehicle sphere.
This week an unemployment officer told CM he estimated that in the Manchester and Salford areas alone there were some 400 drivers out of work who with retraining would make first-class heavy goods drivers. However, there was at the moment no accepted retraining programme whichtid not put the cost on the driver himself or the company which wished to employ him although there were adequate local facilities available.
Mr W. Farnorth, secretary of the North Western (Eastern) area of the RHA said that at the moment in the area, and indeed in most parts of the country, there was no immediate shortage of Class 1 vehicle drivers although this was a situation which was bound to arise if the present rate of intake and training was carried on into the 70s. He agreed with other transport officials who had been voicing recently that a potential excellent source of Class 1 drivers was those made redundant in the lower licence classes.
However, he emphasized, at the moment there would be great difficulty in placing heavy goods vehicle drivers due to the fantastic drop in the last three months in goods vehicle traffic. Said Mr Farnorth: "At the moment when class 1 drivers are being lost to firms through natural wastage i.e. retirement or voluntary leaving, North West haulage firms are not replacing them through lack of business."
Mr Farnorth says that this is due to no one particular factor but that the trend has been apparent since the introduction of operators' licensing and he feels it must be assumed that the many more vehicles which have entered into the field since then have had an overall effect on the distribution of business.