No patent extension for Stirling
26th February 1971
Page 22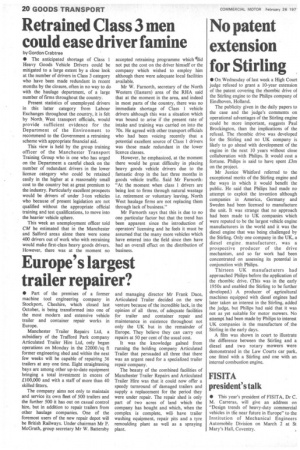 Page 22, 26th February 1971 —
No patent extension for Stirling
Close
• On Wednesday of last week a High Court judge refused to grant a 10-year extension of the patent covering the rhombic drive of the Stirling engine to the Philips company of Eindhoven, Holland.
The publicity given in the daily papers to the case and the judge's comments on operational advantages of the Stirling engine could be more important, suggests Paul Brockington, than the implications of the refusal. The rhombic drive was developed for the Stirling and no UK company is likely to go ahead with development of the engine in the next 10 years without close collaboration with Philips. 'It would cost a fortune. Philips is said to have spent Dm on the project.
Mr Justice Whitford referred to the exceptional merits of the Stirling engine and the ways in which it would benefit the public. He said that Philips had made no attempt to exploit the invention although companies in America, Germany and Sweden had been licensed to manufacture the unit. It was strange that no approach had been made to UK companies which were reputed to be the largest vehicle engine manufacturers in the world and it was the diesel engine that was being challenged by the Stirling. Only one company in the UK, a diesel engine manufacturer, was a prospective producer of the drive mechanism, and so far work had been concentrated on assessing its potential in conjunction with Philips.
Thirteen UK manufacturers had approached Philips before the application of the rhombic drive. (This was in the early 1950s and enabled the Stirling to be further developed.) A producer of agricultural machines equipped with diesel engines had later taken an interest in the Stirling, added the judge, but Philips had said that it was not as yet suitable for motor mowers. No attempt had been made by Philips to interest UK companies in the manufacture of the Stirling in the early days.
A film was shown in court to illustrate the difference between the Stirling and a diesel and two rotary mowers were demonstrated in the Law Courts car park, one fitted with a Stirling and one with an internal combustion engine.