Europe's largest trailer repairer?
26th February 1971
Page 22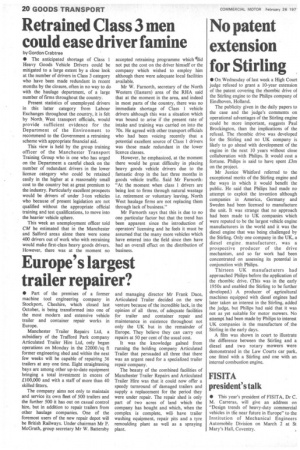 Page 22, 26th February 1971 —
Europe's largest trailer repairer?
Close
• Part of the premises of a former machine tool engineering company in Stockport, Cheshire, which closed last October, is being transformed into one of the most modern and extensive vehicle trailer and container repair works in Europe.
Manchester Trailer Repairs Ltd, a subsidiary of the Trafford Park company Articulated Trailer Hire Ltd, only began operations on Monday in the 22000 /sq ft former engineering shed and within the next few weeks will be capable of repairing 36 trailers at any one time. Eight straightening bays are among other up-to-date equipment bringing a total investment in excess of /100,000 and with a staff of more than 40 skilled fitters.
The company aims not only to maintain and service its own fleet of 500 trailers and the further 500 it has out on casual control hire, but in addition to repair trailers from other haulage companies. One of the foremost users of the new repair depot will be British Railways. Under chairman Mr P. McGrath, group secretary Mr W. Battersby and managing director Mr Frank Dace, Articulated Trailer decided on the new venture because of the incredible lack, in the opinion of all three, of adequate facilities for trailer and container repair and maintenance in existence throughout not only the UK but in the remainder of Europe. They believe they can carry out repairs at 50 per cent of the usual cost.
It was the knowledge gained from running the holding company Articulated Trailer that persuaded all three that there was an urgent need for a specialized trailer repair company.
The beauty of the combined facilities of Manchester Trailer Repairs and Articulated Trailer Hire was that it could now offer a speedy turnround of damaged trailers and supply a replacement for the period they were under repair. The repair shed is only part of two acres of land which the company has bought and which, when the complex is complete, will, have trailer washing equipment, repair pits and a tyre remoulding plant as well as a spraying plant.