Bus chairman slams Commissioners
26th February 1971
Page 21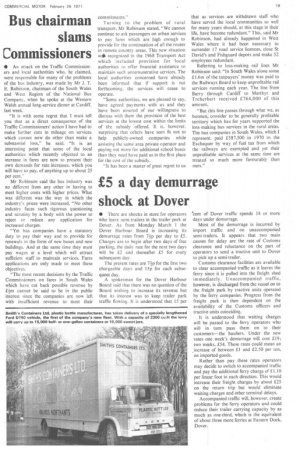 Page 21, 26th February 1971 —
Bus chairman slams Commissioners
Close
• An attack on the Traffic Commissioners and local authorities who, he claimed, were responsible for many of the problems of the bus industry, was made by Mr J. T. E. Robinson, chairman of the South Wales and West Region of the National Bus Company, when he spoke at the Western Welsh annual long-service dinner at Cardiff, last week.
"It is with some regret that I must tell you that as a direct consequence of the Traffic Commissioners' action I have had to make further cuts in mileage on services which cannot now do other than make a substantial loss," he said. "It is an interesting point that some of the local authorities which recently objected to an increase in fares are now to present their own demands for rate increases, which you will have to pay, of anything up to about 25 per cent.
Mr Robinson said the bus industry was no different from any other in having to meet higher costs with higher prices. What was different was the way in which the industry's prices were increased. "No other industry faces such rigorous questioning and scrutiny by a body with the power to reject or reduce any application for increased charges.
"Yet bus companies have a statutory duty to pay their way and to provide for renewals in the form of new buses and new buildings. And at the same time they must pay wages at a level which will attract sufficient staff to maintain services. Fares applications are only made to meet these objectives.
"The most recent decisions by the Traffic Commissioners on fares in South Wales which have cut back possible revenue by £fin cannot be said to be in the public interest since the companies are now left with insufficient revenue to meet their commitments."
Turning to the problem of rural transport, Mr Robinson stated, "We cannot continue to ask passengers on urban services to pay fares which are high enough to provide for the continuation of all the routes in remote country areas. This new situation recognized in the 1968 Transport Act which included provision for local authorities to offer financial assistance to maintain such unremunerative services. The local authorities concerned have already been informed that if support is not forthcoming. the services will cease to operate.
"Some authorities, we are pleased to say, have agreed payments with us and they have been assured or our willingness to discuss with them the provision of the best services at the lowest cost within the limits of the subsidy offered. It is, however, surprising that others have seen fit not to help publicly-owned companies while assisting the same area private operator and paying out more for additional school buses than they need have paid us in the first place for the cost of the subsidy.
"It has been a matter of great regret to us that as services are withdrawn staff who have served the local communities so well for many years should, at this stage in their life, have become redundant." This, said Mr Robinson, had already happened in West Wales where it had been necessary to surrender 17 road service licences, close St David's and Fishguard depots and make 52 employees redundant.
Referring to loss-making rail lines Mr Robinson said: "In South Wales alone some £1.6m of the taxpayers' money was paid to the Railways Board to keep unprofitable rail services running each year. The line from Barry through Cardiff to Merthyr and Treherbert received £764,000 of this amount.
this line passes through what we, as consider to be generally profitable which has for years supported the ing bus services in the rural areas. companies in South Wales, which I t, paid £587,500 in 1970 to the Exchequer by way of fuel tax from which the railways are exempted and yet their unprofitable services at the same time are treated so much more favourably than ours." "But busmen territor loss-ma The bu represe