15 a day demurrage shock at Dover
26th February 1971
Page 21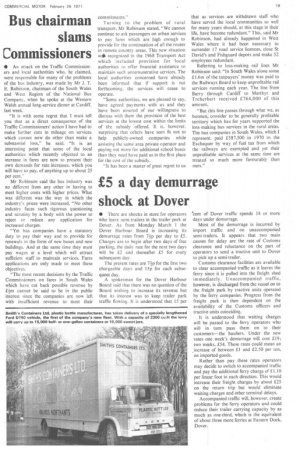 Page 21, 26th February 1971 —
15 a day demurrage shock at Dover
Close
• There are shocks in store for operators who leave semi-trailers in the trailer park at Dover. As from Monday March 1 the Dover Harbour Board is increasing its demurrage rates from 7+p per day to £5. Charges are to begin after two days of free parking, the daily rate for the next two days will be £2 and thereafter £5 for every subsequent day.
The present rates are 7-lip for the first two chargeable days and 15p for each subsequent day.
A spokesman for the Dover Harbour Board said that there was no question of the Board wishing to increase its revenue but that its interest was to keep trailer park traffic flowing. It is understood that 15 per 'cent of Dover traffic spends 14 or more days under demurrage.
Most of the demurrage is incurred by import traffic and on unaccompanied semi-trailers. It appears that two main causes for delay are the rate of Customs clearance and reluctance on the part of operators to send a tractive unit to Dover to pick up a semi-trailer.
Customs clearance facilities are available to clear accompanied traffic as it leaves the ferry since it is pulled into the freight shed immediately. Unaccompanied traffic, however, is discharged from the vessel on to the freight park by tractive units operated by the ferry companies. Progress from the freight park is then dependent on the availability of the Customs officers and tractive units coinciding.
It is understood that waiting charges will be passed to the ferry operators who will in turn pass them on to their customers—the hauliers. Under the new rates one week's demurrage will cost £19; two weeks, £54. These rates could mean an .increase of between £1 and £2.50 per ton, on imported goods.
Rather than pay these rates operators may decide to switch to accompanied traffic and pay the additional ferry charge of f 1.10 per linear foot in each direction. This would increase their freight charges by about £25 on the return trip but would eliminate waiting charges and other terminal delays.
Accompanied traffic will, however, create problems for the ferry operators and could reduce their trailer carrying capacity by as much as one-third, which is the equivalent of about three more ferries at Eastern Dock, Dover.