No Extra Van for Atlas Express
26th February 1960
Page 147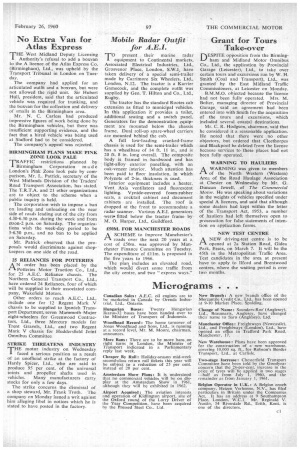 Page 147, 26th February 1960 —
No Extra Van for Atlas Express
Close
THE West Midland Deputy Licensing Authority's refusal to add a boxvan to the A licence of the Atlas Express Co. (Birmingham), Ltd., was upheld by the Transport Tribunal in London on Tuesday.
The company had applied for an articulated outfit and a boxvan, but were not allowed the rigid unit. Sir Hubert Hull, president, said that the articulated vehicle was required for trunking, and the boxvan for the collection and delivery of smalls in the Birmingham area.
Mr. N. C. Carless had produced impressive figures of work being done by the Birmingham vehicles, but there was insufficient supporting evidence, and the fact that a hired vehicle was being used at Stafford had to be considered.
The company's appeal was rejected.
BIRMINGHAM PLANS MAKE PINK ZONE LOOK PALE
TRAFFIC restrictions planned by
Birmingham Corporation made London's Pink Zone look pale by comparison, Mr. L. Patrick, secretary of the West Midlands Division of the Traders' Road Transport Association, has stated. The T.R.T.A. and 21 other organizations are to object to the scheme when a public inquiry is held.
The corporation wish to impose a ban on loading and unloading on the near side of roads leading out of the city from 4.30-6.30 p.m. during the week and from rroon-2 p.m. on Saturday. The organizations wish the week-day period to be 5-6.30 p.m., and no ban to be applied on Saturday.
Mr. Patrick observed that the proposals would discriminate against shopkeepers on one side of the road.
25 RELIANCES FOR POTTERIES
AN order has been placed by the -Potteries Motor Traction Co., Ltd., for 25 A.E.C. Reliance chassis. The Northern General Transport Co., Ltd., have ordered 24 Reliances, four of which will be supplied to their associated company, Wakefield Motors.
Other orders to reach A.E.C., Ltd., include one for 12 Regent Mark V chassis to be supplied to Ipswich Transport Department, seven Mammoth Major eight-wheelers for Greenwood Contractors, Ltd., three Mercury models for Trent Gravels, Ltd., and two Regent Mark V chassis for Huddersfield Joint Omnibus Committee.
STRIKE THREATENS INDUSTRY
riE motor industry on Wednesday faced a serious position as a result of an unofficial strike at the factory or Hardy Spicer, Ltd., who are said to produce 95 per cent. of the universal joints and propeller shafts used in vehicles. Many manufacturers carry stocks for only a few days.
The strike concerns the dismissal of a shop steward, Mr. Frank Troth. The company on Monday issued a writ against him alleging libel in notices which he is stated to have posted in the factory.